Narrow winding streets lined with new indie cafes and senbei shops passed down through generations, Yanaka is the perfect place to while away an afternoon.
A quiet neighborhood with a popular market street, beautiful sakura-lined cemetery and plenty of temples—it's no surprise this part of town is becoming popular, but you might be surprised with just how lovely it is. Just a short walk from Ueno Park, the charm of the area is preserved by the tendency to re-purpose older buildings rather than rebuild, creating a contrast that remains somehow reassuring. You can sample the old-fashioned treats of Japan followed up with some modern takes on their specialties, all within meters of each other. Whether you're normally a wanderer or not, here you just can't help it—every side street is promising and each corner offers myriad possibilities. So allow us to give you a taste of what to see before you head out there yourself.
A beautifully well-maintained cemetery with a cherry-tree-lined central pathway. This is a lovely start to your wanderings as it is just around the corner from Nippori Station.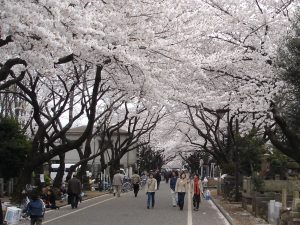 Although it was once a part of Tennoji Temple, it was separated in the Meiji era. You may see some of the local cats sunbathing between the twisted trees.  You can also visit the grave of the last shogun of the Edo period, Tokugawa Yoshinobu. Aside from keeping an eye out for grannies on bikes, it makes for a very relaxing stroll a million miles away from the busy streets of Ueno.
Yanaka Ginza – The Shopping Street
After descending the TV-famous steps into Yomisedori, you can explore the 80+ shops and stalls of this street. These shops feature everything from bento boxes to butchers, sake bars to sandals and even cat-shaped taiyaki! It's also a great spot for souvenir shopping and has plenty of sweet treats and coffee shops to try.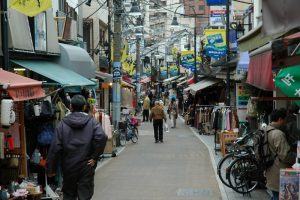 There are art galleries to purvey and all kinds of food, including the cat taiyaki and the 10-yen manju shop. A manju is a small sweet ball filled with red bean paste and surrounded in a soft rice flour cushion with flavors like matcha and brown sugar.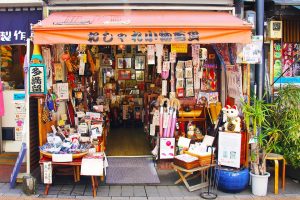 For souvenirs and gifts, you can peruse the traditional pottery shops and choose a basket too. You can also go for the more modern gifts. There are some very unusual hanko stamps available for personalization and plenty of lovely tins and smaller gifts, as well as plenty of cat goods! There are traditional toy shops too, so you'll be sure to find something.
Tennoji Temple et al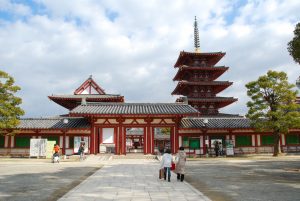 You may notice from any map of Yanaka that there are A LOT of temples here. This can make a great rough plan for your strolling explorations. It also means you can go far without seeing a Buddha peeking out. Or a golden statue appearing around a corner, which definitely adds to the day.
Tennoji is the most well known, with a centuries-old sitting Buddha and lovely small garden. It was founded in 1274 to house a Buddha carved by Nichiren, temporarily closed for heresy. The temple was reopened and later became a seat of the God of resources and bravery. It is also the only one of the Yanaka Seven Gods of Fortune Temples that is in Yanaka. Take on that challenge if you care, but maybe for another day.
[mkdf_button size="" type="" text="TAKE ME TO JAPAN" custom_class="" icon_pack="font_awesome" fa_icon="" link="https://www.magnificentjapan.com/contact-us/" target="_self" color="" hover_color="" background_color="" hover_background_color="" border_color="" hover_border_color="" font_size="" font_weight="" margin=""]