Naoshima (直島) is an island in the Seto Inland Sea that is known for its modern art museums, architecture, and sculptures. Part of Kagawa Prefecture, the island with its Mediterranean atmosphere, sandy beaches and sunny weather, combined with a laid-back, rural feel is a relaxing getaway from Japan's large urban areas such as Tokyo and Osaka.
Where technology makes you speedy, up-to-the-minute and all-over-the-place, Naoshima so calms, grounds and slows you that you feel as if you've stepped into a meditative shrine.
Naoshima Island may be small, but it is filled with curiosities to tickle the mind. Years ago, artists & residents breathed life back into its abandoned buildings and began carving creations from their wildest imaginings. The result? Beaches speckled in sculptures, houses erupting art from every orifice, and intriguing walk-through exhibits in unexpected places.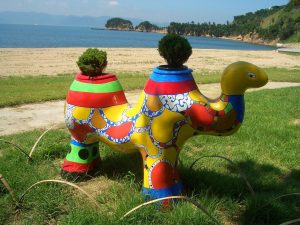 Outdoor Art
Art sneaks up on you as you work your way around the island – in hotels, galleries and the outdoors. The most obvious venues are Benesse House, Chichū Art Museum, Lee Ufan Museum and Art House Project. We're talking big names too – Claude Monet, Yukinori Yanagi, James Turrell.
Visitors often refer to it as "Ando Island," since most of the structures on the island were designed by Pritzker Prize-winning architect Tadao Ando.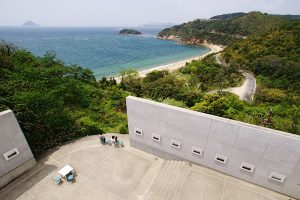 View from the Benesse House
Tadao Ando, Jasper Johns, Yves Klein, Andy Warhol and Hiroshi Sugimoto as an indication. Wandering around on foot will have you discovering outdoor sculptures and art exhibits sometimes cleverly disguised as children's playgrounds and colorful gardens. There's even a public bathhouse/art site, I Love Yu, where you can spot Edo Period erotic prints on the bottom of the baths if you can hold your breath long enough that is.
Top places to see in Naoshima:
Chichu Art Museum – The museum building, designed by Ando Tadao and itself a work of art, is mostly located underground. It solely utilizes natural light to illuminate the artwork. This creates a viewing experience that is heavily influenced by the surrounding natural environment. Museum houses a small but impressive collection of works by artists including Claude Monet, James Turrell and Walter De Maria.
The Benesse House – The Benesse House is a modern art museum and resort hotel. The complex consists of four buildings: the Museum, Oval, Park and Beach, all designed by Ando Tadao. Each building features its own unique artwork and guest rooms. The main attraction of the Benesse House is its modern art museum. This museum displays work created by many different artists from both Japan and abroad. These works are that was inspired by the natural surroundings of Naoshima and the architecture on the island. Overnight guests staying at the Museum and Oval buildings can enjoy 24-hour access to the museum.
 Art House Project – Charming little village turned into a modern art destination. The Art Houses are a collection of abandoned houses and workshops – as well as a temple and a shrine – that have been converted into venues and art installations for artists from Japan and around the world.
Naoshima Bath "I♥YU" – kitschy and wonderful, a fitting way to end the day is with a soak here after a full day of enjoying art.
Visit Naoshima
The best way to visit Naoshima is to spend at least a night or two on the island, as it is not to be rushed through. Most exhibits are closed on Mondays, so make sure to take this into account when planning your visit.
From Tokyo, Kyoto or Osaka, take the shinkansen (bullet train) west to the city of Okayama, home of the famous Korakuen Garden. At Okayama, you'll change to a local train heading south to the port town of Uno. A private car from Okayama to Uno is also a good option. From Uno, it's a short 20-minute ferry ride to Naoshima Island's Miyanoura Port.
Once on Naoshima getting around is fairly easy.
One of the best ways to explore this island is to rent an electric bike.
So grip your bike handles and dangle your camera from your neck. Let the wind carry you in exploring this Japanese gem!
 [mkdf_button size="" type="" text="Take Me to Naoshima" custom_class="" icon_pack="font_awesome" fa_icon="" link="https://www.magnificentjapan.com/contact-us/" target="_self" color="" hover_color="" background_color="" hover_background_color="" border_color="" hover_border_color="" font_size="" font_weight="" margin=""]