Cherry blossoms are Japan's biggest annual event, an event that sees 60% of the population getting involved and taking a part in. Every spring people all around Japan have picnics and admire cherry blossoms which are called Sakura. Viewing of cherry blossoms is called Hanami. The season starts from late March through the early May in one area in Japan starting in Fukuoka in the south and travels to Sapporo in the north. The blossoms start to fall one week after blooming and it really is a sight to be seen.
Best Cherry Blossom Viewing Spots
Here are some special touristic places where you can watch Sakura all over the country:
KYOTO
The Hirano Shrine in Kyoto, with all its beautiful trees, is an amazing site to stroll under the cherry blossoms and also a great place to have a hanami. You can see a 400-year-old tree that provides a long life to those who visit them.
Arashiyama district is a tourist district that is attractive due to the vast natural beauty. There are many places to enjoy cherry blossoms here such as Tenryuji temple and the Sagano Romantic Train. During cherry blossom season the entire Arashiyama Mountain becomes colored in a sea of green and cherries.
Philosopher's Path in Kyoto is one of the most popular hanami spots. It's a long and beautiful trail that leads to Nyakuoiji Bridge. This path got its name because it was a favorite place for philosopher Kitaro Nishida to walk around and think. There is a vast amount of cherry trees blooming along this 2-kilometer path which turns a road into the romantic cherry tunnel.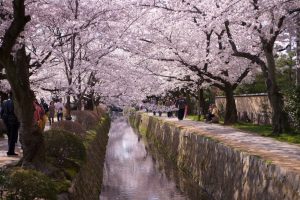 Philosopher's Path in Kyoto
Ninnaji temple is known for the late-blooming cherry trees. About 200 trees are planted on the left side of the center gate. The usual height of these trees is about 2 meters and you can enjoy cherry blossoms at eye level. These magnificent cherry trees, with the five-story pagoda as a backdrop, are a wonderful site that has not changed since the Edo period in the 17th century
Around Kyoto, the most famous place for cherry blossom is Daigoji Temple. Starting with the cherry trees along both sides of the entrance, about 1000 various trees bloom in various places on the site for nearly 3 weeks. Daigoji Temple is definitely a must-see place during cherry blossoms season in Kyoto.
TOKYO
Numerous cultural museums and a zoo can be found in Ueno Park in the Ueno district of Tokyo. In spring, Ueno Park becomes the most famous Sakura place in Japan. Over 800 trees grow in the area. Every year, a great number of people get together here to cherish its beauty. It's the best place for Hanami in Japan. People getter together, drink beer and sake and experience Japanese Hanami culture.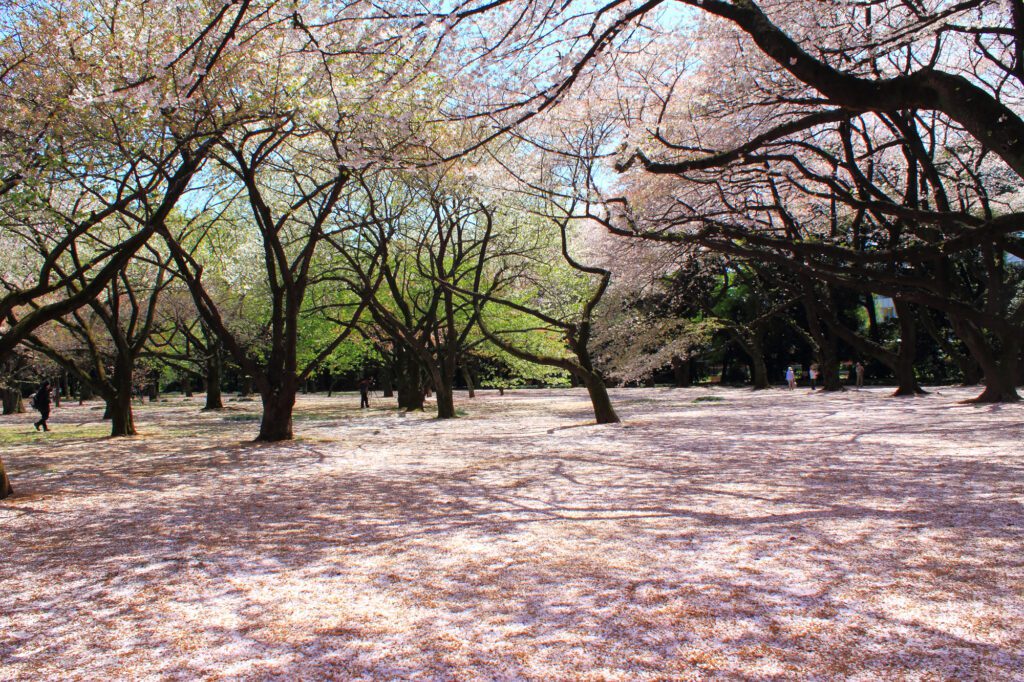 Contact us, and we will organize for you a perfect Hanami itinerary for you!
[mkdf_button size="" type="" text="Take Me to Japan" custom_class="" icon_pack="font_awesome" fa_icon="" link="https://www.magnificentjapan.com/contact-us/" target="_self" color="" hover_color="" background_color="" hover_background_color="" border_color="" hover_border_color="" font_size="" font_weight="" margin=""]