Japan is a country that has a long and rich history of art and culture. From traditional art forms to contemporary installations and exhibitions, Japan is a true paradise for art lovers. Not only that, but Japan also has a unique aesthetic that has influenced art styles around the world. We are sharing with you some of the best art destinations in Japan that you won't want to miss. Let's dive in!
Best Art Destinations in Tokyo
When it comes to art in Japan, Tokyo is definitely the place to be. Tokyo's art scene is a vibrant mix of traditional and contemporary art forms. From museums and galleries to street art and installations, Tokyo has it all. Here are some of the best Tokyo art museums, galleries, and exhibitions that you should check out.
Tokyo National Museum: Showcasing Traditional Japanese Art and Artifacts
It's a fantastic art museum located in the heart of Tokyo. It's definitely worth a visit if you're an art lover or history buff. The museum has an incredible collection of traditional Japanese art and artifacts that span centuries of Japanese culture. You can see everything from ancient pottery to intricate textiles, calligraphy, and paintings. The exhibits are spread across several buildings, each dedicated to a different genre of art. Plus, the museum also features rotating special exhibitions that highlight various aspects of Japanese art and culture.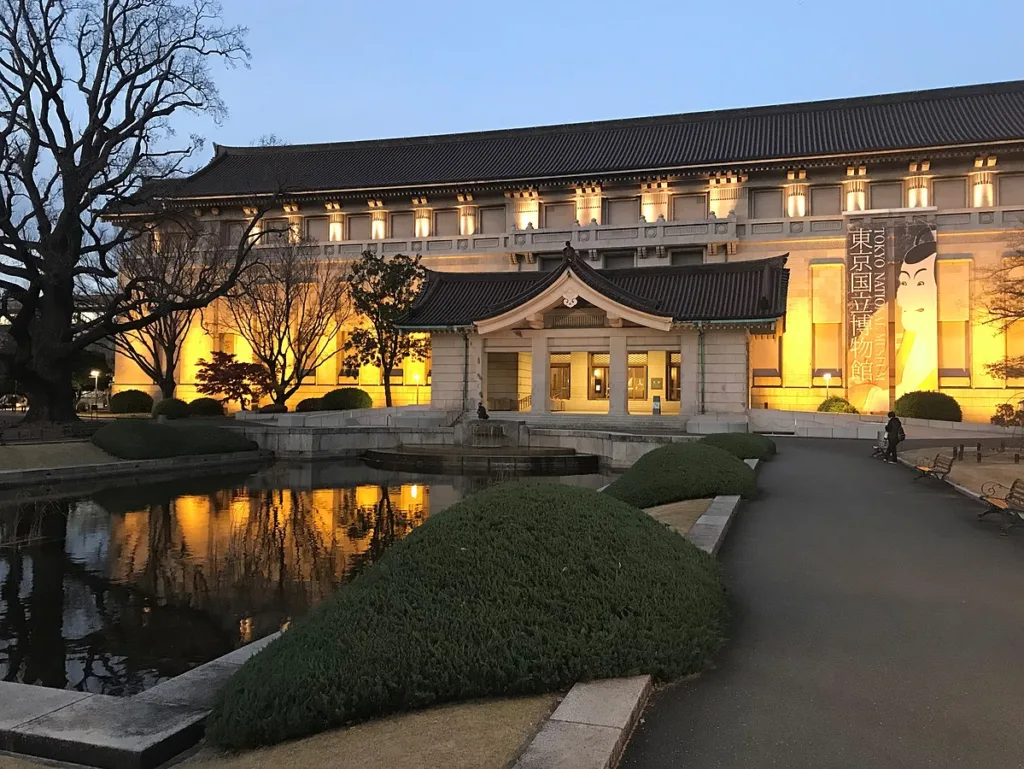 Mori Art Museum: Contemporary Art with Stunning Views of Tokyo
It's a contemporary art museum located on the 53rd floor of the Mori Tower in the Roppongi Hills complex. The museum has a reputation for showcasing cutting-edge and experimental contemporary art from both local and international artists. One of the things I love about the museum is its incredible views of the Tokyo skyline. It adds an extra element of beauty to the whole experience. The museum also hosts a variety of educational programs and events, including artist talks, workshops, and screenings.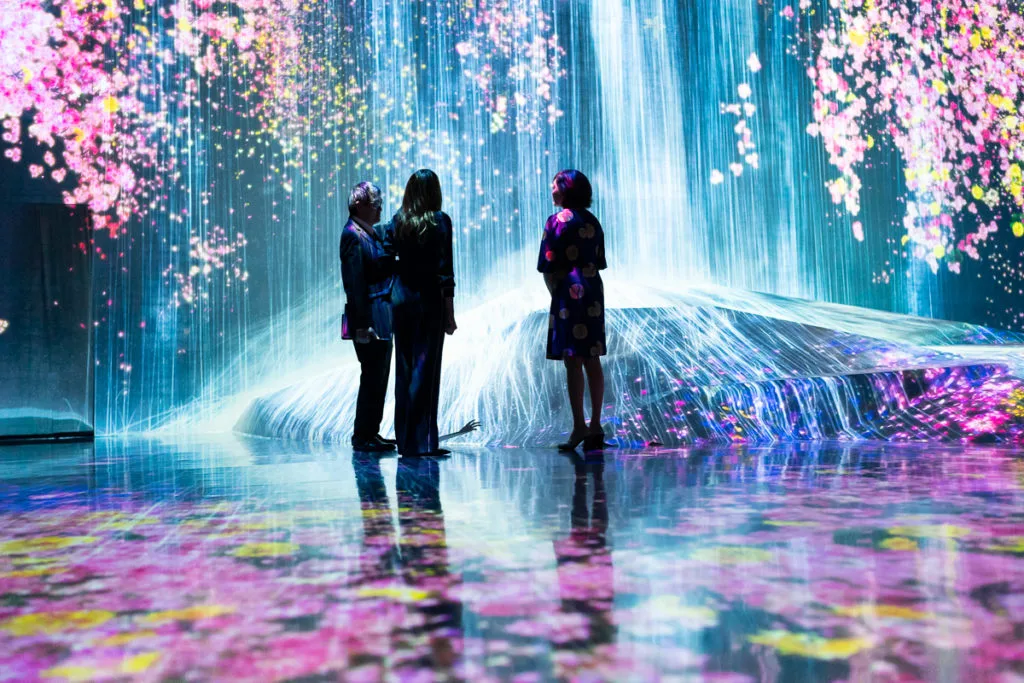 Yayoi Kusama Museum: Dedicated to the Works of the Famous Artist
It's a unique museum dedicated to the work of the iconic Japanese artist, Yayoi Kusama. The museum is located in Shinjuku and features a rotating selection of Kusama's paintings, sculptures, and installations. The best part about the museum is that it provides an immersive experience that allows visitors to fully engage with Kusama's art. The museum limits the number of visitors per day. It means you can really take your time and appreciate Kusama's artwork without feeling rushed.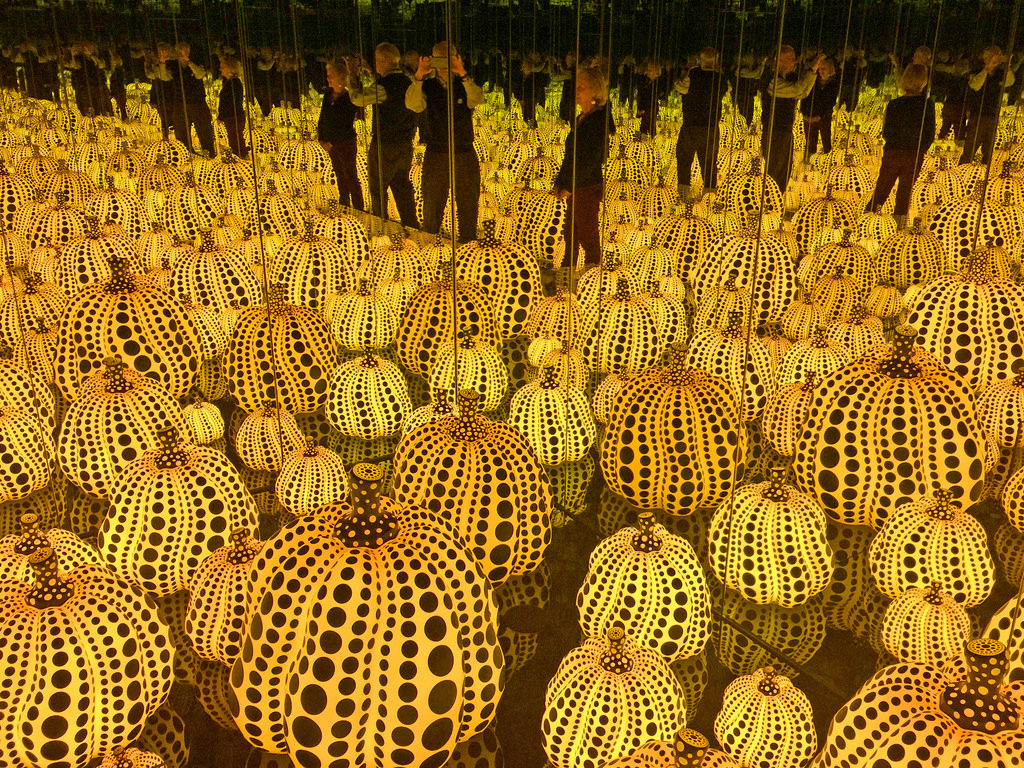 teamLab Borderless: Immersive and Interactive Digital Art
It's an incredible digital art museum that offers a truly immersive and interactive art experience. The museum features a variety of interactive installations that use cutting-edge technology to create stunning digital landscapes and art pieces that respond to visitors' movements. It's like stepping into a dream world of light, sound, and color. One of my favorite installations is the Crystal World. It features an illuminated crystal landscape that changes in response to visitors' movements. Another popular installation is the Forest of Resonating Lamps. It features hundreds of lamps that respond to visitors' touch and create a mesmerizing display of light and sound. If you're looking for a unique and unforgettable art experience in Tokyo, teamLab Borderless is definitely worth checking out!
Tokyo Midtown: Discovering Emerging and Established Artists from Japan and Around the World
It's a trendy complex located in the heart of Tokyo that offers a mix of art, shopping, and dining. One of the highlights of the complex is the art exhibitions and installations The exhibitions cover a wide range of art forms, from traditional Japanese art to contemporary installations and interactive exhibits. The complex also features a variety of restaurants and cafes, as well as high-end shops and boutiques. So, whether you're looking to explore the latest art trends, do some shopping, or grab a bite to eat, Tokyo Midtown has something for everyone. Plus, the modern and sleek architecture of the complex is also a sight to behold, so it's worth visiting just for the ambiance!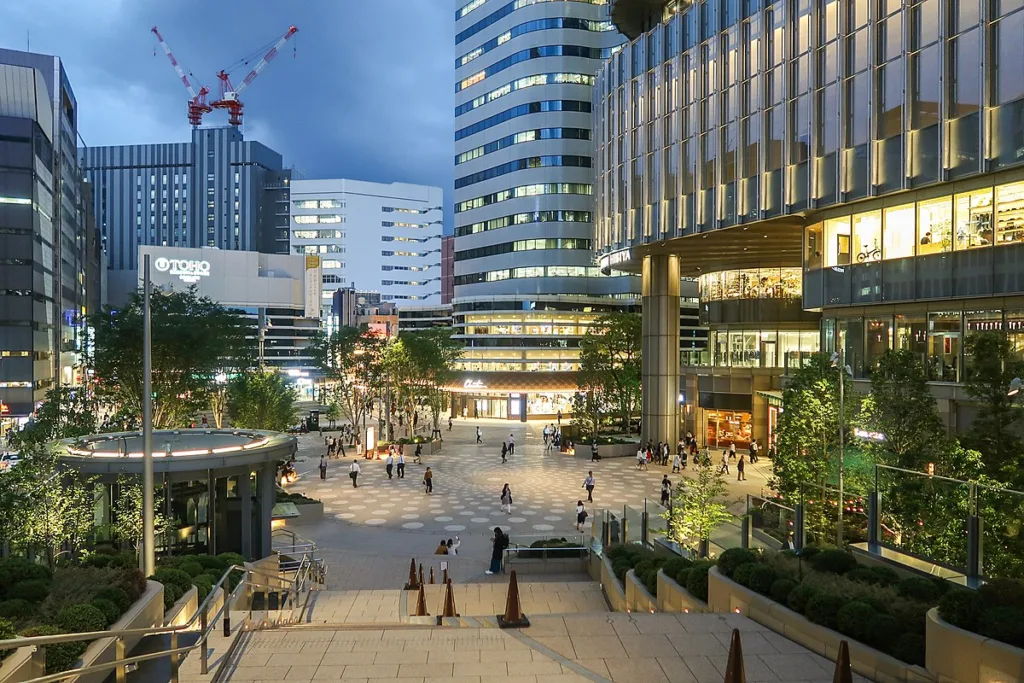 Best Art Destinations in Kyoto
The city is a hub of traditional Japanese art and crafts and also boasts a thriving contemporary art scene. From historic temples and shrines to modern art exhibitions, there's something for every art lover in Kyoto.
Kyoto National Museum: Discover Japanese Art Through the Ages
This museum is home to an incredible collection of Japanese artworks, including paintings, sculptures, ceramics, textiles, and more. The exhibits are arranged chronologically, so you can see how Japanese art has evolved over time. Some of the highlights include ancient Buddhist sculptures, exquisite samurai armor, and delicate Noh theater costumes. The museum is located in a beautiful park and has a peaceful and serene atmosphere that makes it a great place to spend an afternoon.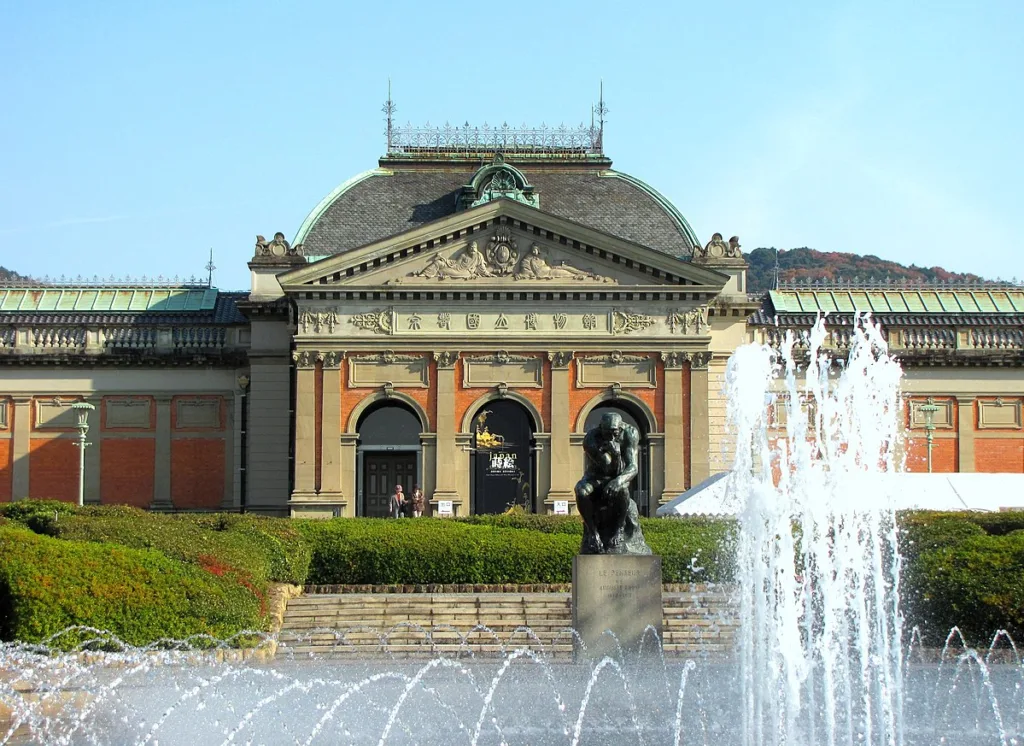 Museum of Kyoto: Explore the City's Cultural Heritage
The museum is housed in a beautiful building that was once the Kyoto branch of the Bank of Japan, and it has been carefully restored to preserve its historical character. Inside, you'll find a variety of exhibits that showcase Kyoto's art, crafts, and history. There are rooms with exquisite pottery, lacquerware, and textiles, as well as displays of traditional festival costumes and historical artifacts. One of the highlights is a large-scale model of the city that shows how Kyoto looked in the Edo period.
Nishijin Textile Center: Experience the Beauty of Traditional Kimono Making
This center is located in the Nishijin district, which has been the heart of Kyoto's textile industry for over 1,200 years. In the center, you can see the history and techniques of Nishijin weaving, which has intricate patterns and luxurious materials. You can watch skilled weavers at work, learn about the dyeing process, and even try your hand at weaving on a traditional loom. There is also a museum that displays beautiful antique textiles, including kimonos that once belonged to the imperial family.
Miho Museum: Marvel at Ancient Artifacts in a Modern Setting
It's located in a stunning natural setting in the mountains outside of Kyoto, and it's definitely worth the trip. The museum was designed by renowned architect I.M. Pei, and it's known for its unique combination of art, nature, and architecture. The collections include over 2,000 works of art from around the world, with a particular focus on ancient Asian artifacts and contemporary Japanese art. One of the highlights is the museum's collection of ancient Chinese bronzes. There's also a beautiful tea room where you can enjoy traditional Japanese tea and sweets. And the museum's location in a beautiful forested valley makes for a truly unforgettable experience.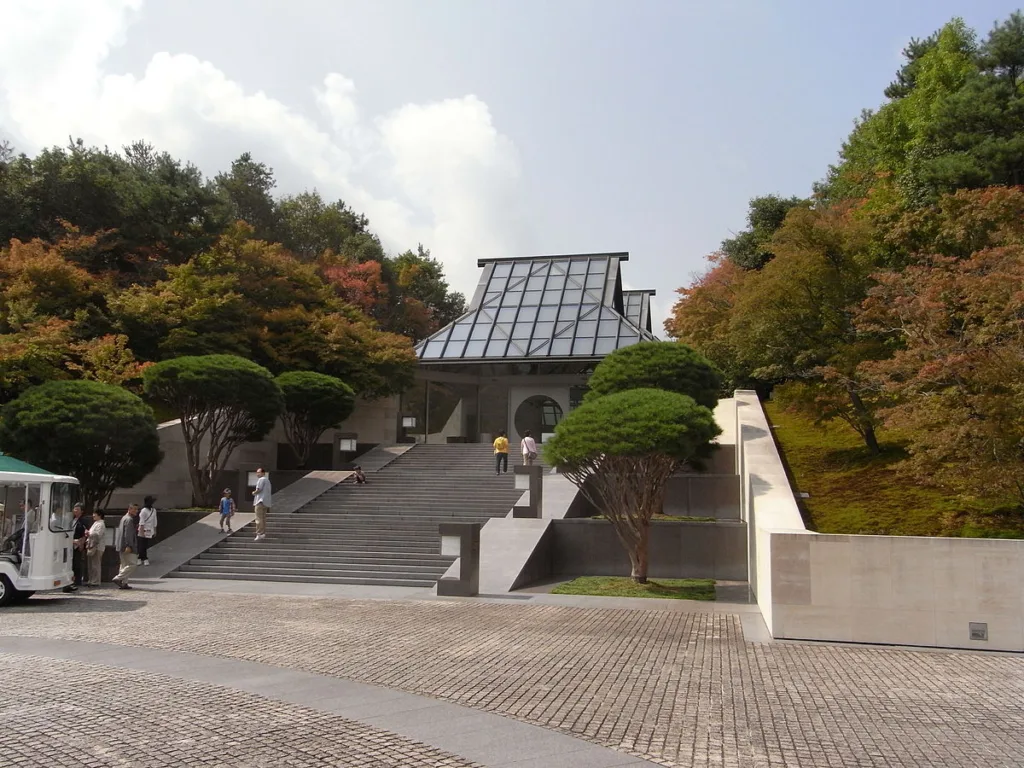 Kyoto International Manga Museum: Immerse Yourself in the World of Manga
It's a really cool spot for anyone who loves manga and anime. The museum is located in a historic building that used to be a school, and it has an enormous collection of manga – over 300,000 volumes! You can spend hours browsing the shelves, checking out everything from classic titles to the latest releases. There are also exhibits on the history and art of manga, as well as workshops and events where you can meet manga artists and learn more about the craft. And if you're feeling creative, there's even a space where you can try your hand at drawing your own manga. It's a fun and unique way to explore Japanese pop culture and get a glimpse into the world of manga.
Best Art Destinations in Naoshima
Naoshima is a small island located in Japan's Seto Inland Sea. It's one of the must-visit art destinations for art lovers from around the world. The island is home to some of the most famous art museums and installations in the country. To experience art in a truly immersive and innovative way, Naoshima is definitely worth a visit.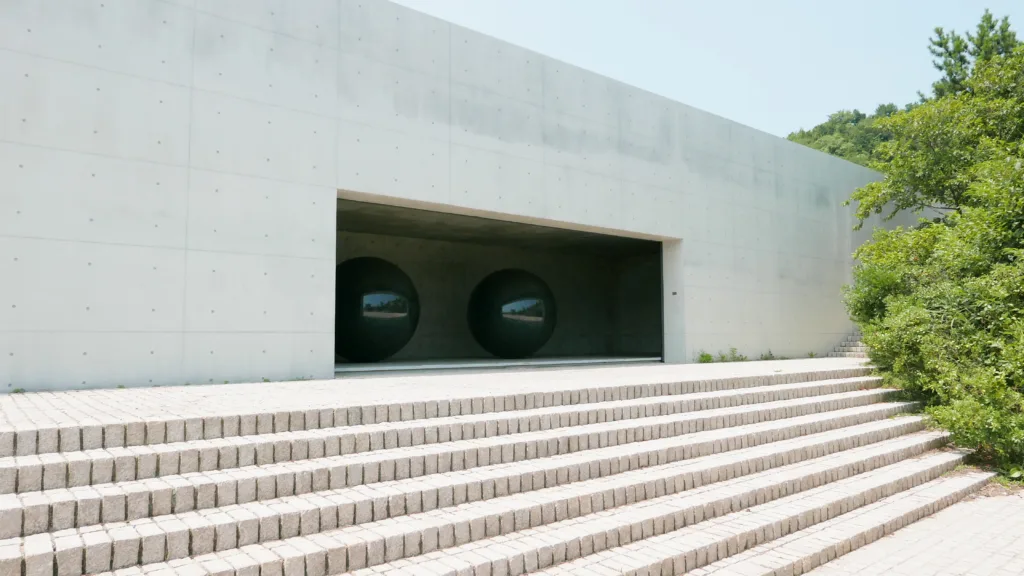 Chichu Art Museum: An Underground Haven for Contemporary Art
This museum is unique not only for its architecture but also for its collection of contemporary art and installations by some of the world's most renowned artists. Designed by Tadao Ando, the museum is built almost entirely underground to minimize its impact on the surrounding landscape. The natural light that filters into the galleries creates a stunning interplay between the artwork and the environment. Trust me, the experience of viewing the works of Claude Monet, James Turrell, and Walter De Maria, among others, in this setting is truly breathtaking.
Benesse House Museum: A Fusion of Art, Architecture, and Nature
It's one of the most unique art museums I've ever visited. It's a fusion of contemporary art, architecture, and nature, designed by Tadao Ando, one of Japan's most prominent architects. The museum's collection includes works by both established and up-and-coming artists from around the world, displayed in a variety of mediums and formats. The building itself is also a work of art, with its sleek, minimalist design and use of natural light. What's more, the museum is located on a hill overlooking the Seto Inland Sea, providing breathtaking views of the surrounding landscape.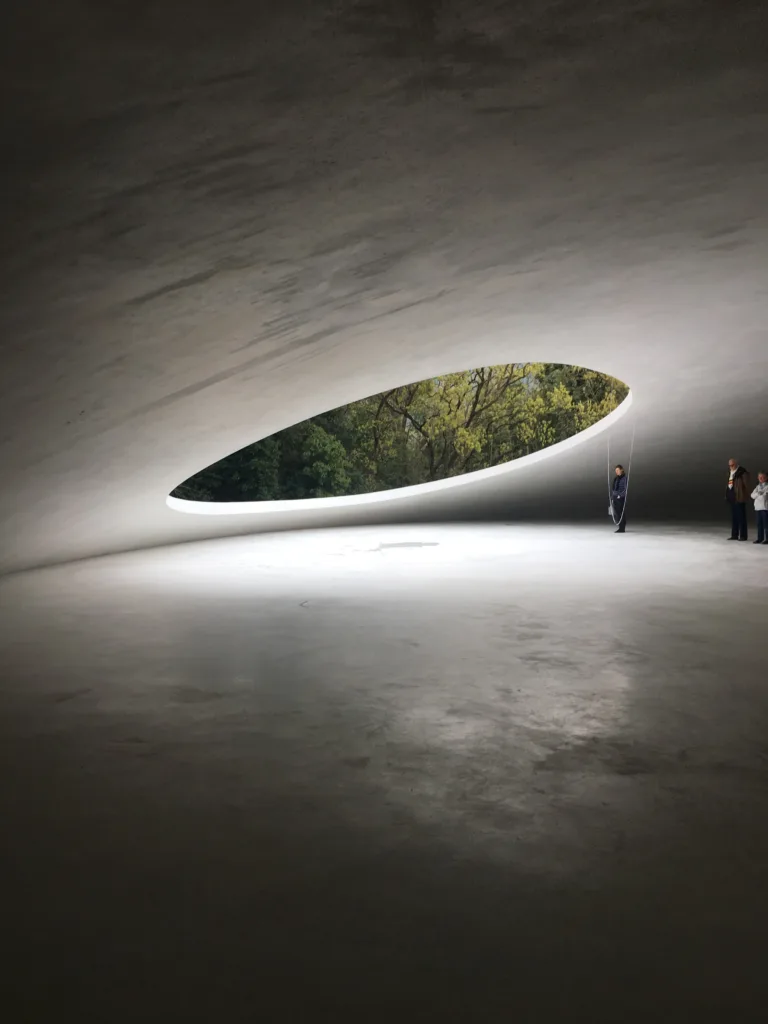 Lee Ufan Museum: Exploring the Intersection of Art and Zen
It's one of the must-visit art destinations for art lovers! Lee Ufan is a Korean-born, Japanese-based artist known for his minimalist works that explore the relationship between art and nature. The Lee Ufan Museum is designed to complement his art perfectly, with a serene setting that's just as meditative as his sculptures and paintings. The museum is located on a hill overlooking the Seto Inland Sea, and the architecture makes use of natural materials like stone and wood to create a sense of harmony with the surrounding landscape. Inside, you'll find an extensive collection of Lee Ufan's works, including paintings, sculptures, and installations.
Art House Project: Uncovering Hidden Art Gems in Naoshima's Villages
It's a series of installations located in traditional Japanese houses throughout the Honmura neighborhood of the island. The Art House Project brings together contemporary art and traditional Japanese architecture in a way that's truly unique and breathtaking. Each house has been transformed into a work of art by a different artist. So you can expect to see a wide range of styles and mediums represented. Some of the installations are interactive and invite visitors to participate in the artwork, while others are more contemplative and meant to be viewed from a distance. It's a wonderful way to experience art and architecture in a way that feels totally immersive and unlike anything else.
Yayoi Kusama's "Pumpkin" and Other Outdoor Installations: Adding a Playful Touch to the Island's Scenery
Naoshima is famous for its outdoor art installations too, and one of the most iconic is Yayoi Kusama's "Pumpkin." This bright yellow, dotted pumpkin sculpture is located near the ferry terminal and has become somewhat of a symbol of the island. But "Pumpkin" is not the only outdoor installation worth seeing. There are also other amazing works of art, such as the "Red Pumpkin" and the "Walking Ark" by Shinro Ohtake.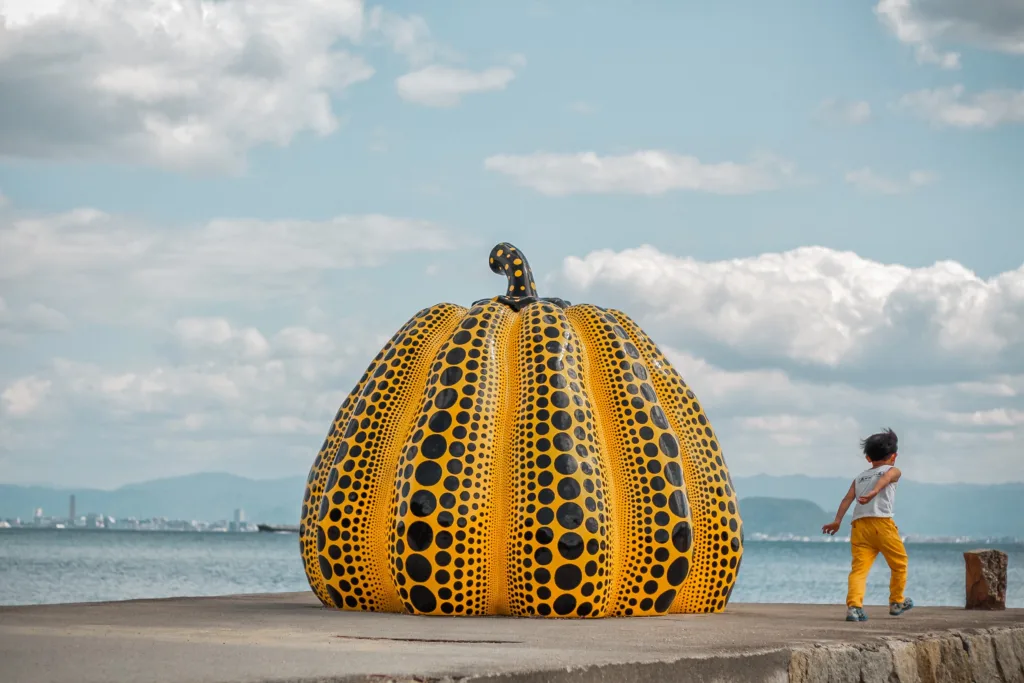 Best Art Destinations in Kanazawa
If you're looking for a lesser-known art destination in Japan, Kanazawa is a hidden gem worth exploring. Known for its historic streets, traditional crafts, and beautiful gardens, Kanazawa is also home to a thriving art scene and a hidden gem among art destinations in Japan. Here are some of the top art museums, galleries, and exhibitions to visit in Kanazawa.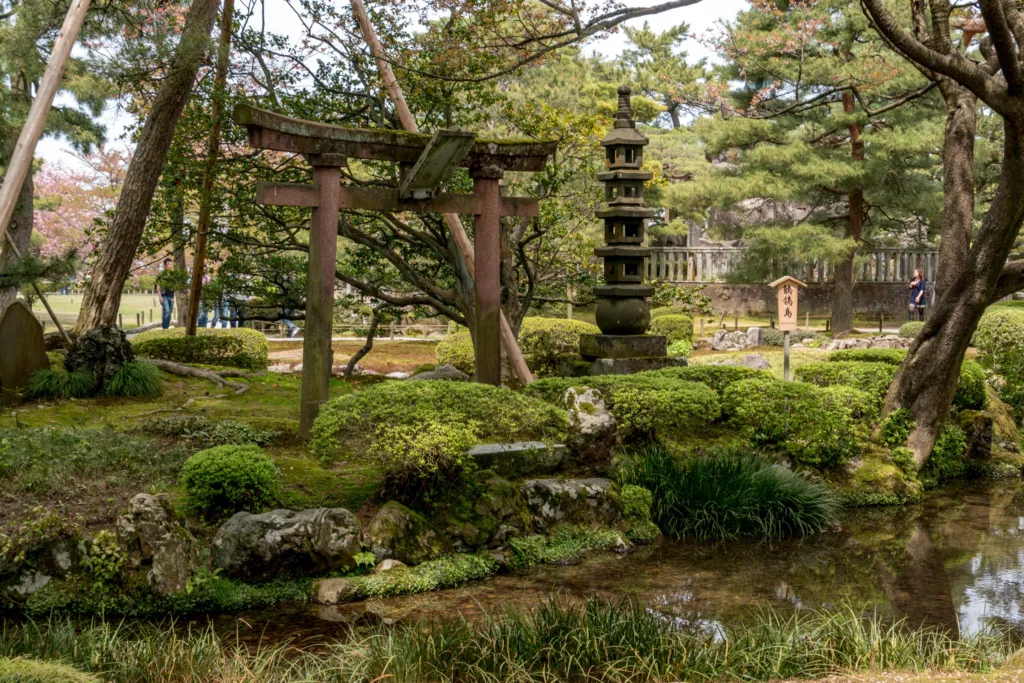 Kanazawa 21st Century Museum of Contemporary Art
This museum is dedicated to contemporary art from both Japan and around the world and is housed in a unique circular building that features a large open-air courtyard in the center. Inside, you'll find a range of exhibits that include everything from paintings and sculptures to video installations and performance art. One of the most popular installations is Leandro Erlich's "Swimming Pool," which is a fully functional pool that appears to have people walking on the bottom of it.
D.T. Suzuki Museum
This museum is dedicated to the renowned philosopher and scholar D.T. Suzuki, who was born in Kanazawa. The museum is designed to reflect his philosophy of Zen Buddhism and features interactive exhibits that allow visitors to experience his ideas firsthand.
Ishikawa Prefectural Museum of Art
This museum showcases both traditional and contemporary Japanese art. It has a vast collection of works by local artists, as well as exhibits that focus on Japanese calligraphy, pottery, and lacquerware.
Kanazawa Utatsuyama Kogei Kobo
This traditional crafts workshop is located in the historic district of Kanazawa. It offers visitors the opportunity to watch artisans at work and learn about traditional Japanese crafts such as pottery, weaving, and metalwork.
Explore Japan's diverse and influential art scene
through books
---
Reading books on art in Japan offers a unique opportunity to explore a rich and diverse artistic tradition that spans centuries.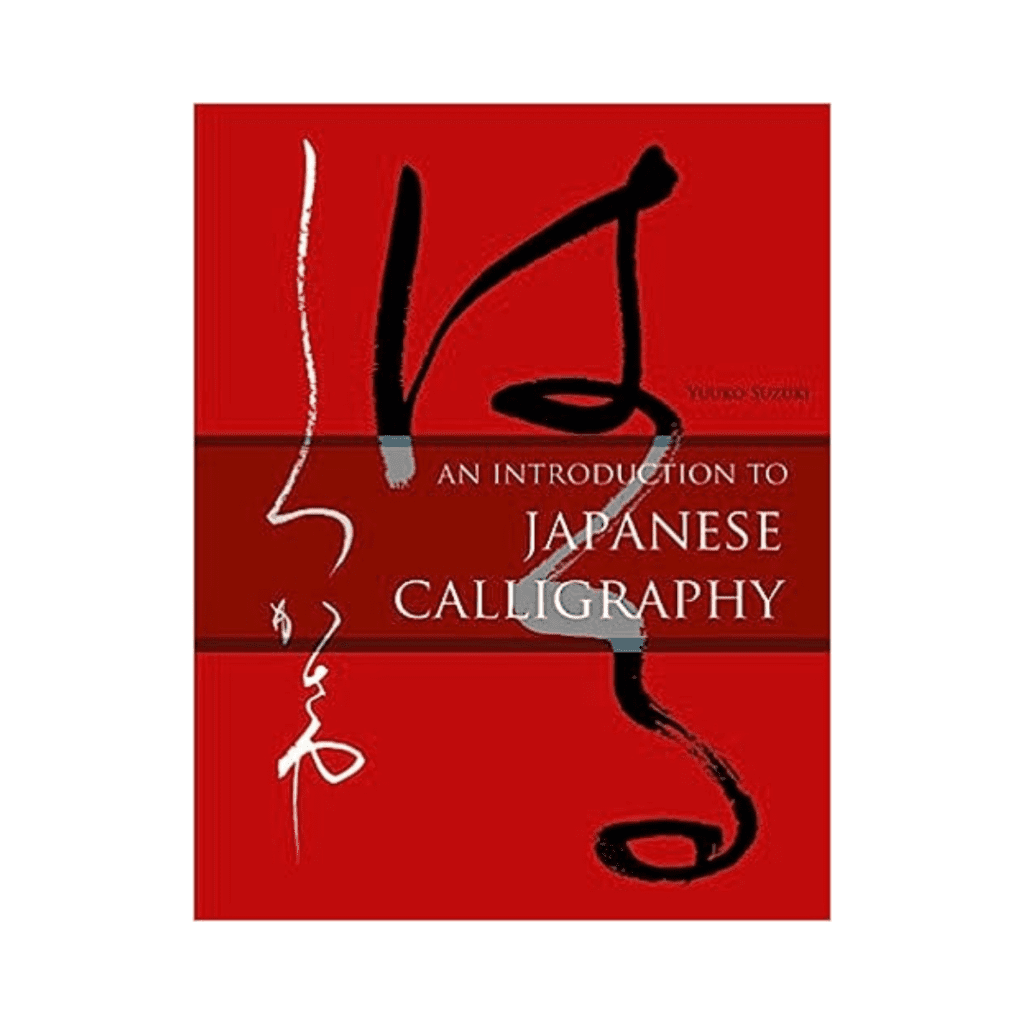 ---
Discover the beauty of Japan's art scene
Japan's art scene offers a unique and unforgettable experience for art lovers. Whether you're interested in traditional Japanese art or contemporary installations, there's something for everyone in cities like Tokyo, Kyoto, and Kanazawa, as well as on the island of Naoshima. Don't miss the opportunity to immerse yourself in Japan's rich culture and artistry. Plan your trip today and discover the beauty of Japan's art scene.