Tokyo is packed with some of the world's top museums and galleries, but further afield in Japan are even more fantastic art hubs. Japan's thriving art scene has been the catalyst for a museum boom throughout the country in recent decades. With Tokyo's cultural buzz being comparable to the metropolises of New York, London, and Paris, Japan is an enthralling destination for art lovers. See below what are top art destinations in Japan.
Naoshima, Teshima, and Inujima
Kagawa Prefecture
Three islands in Japan's Seto Inland Sea – Naoshima, and to a lesser extent Teshima and Inujima – are contemporary art wonderlands. All three are easy to explore on foot or by bike, which you can rent just outside the ferry terminal. Seeing enormous art installations dotted throughout the rural island landscape is wonderfully surreal. Highlights include Yayoi Kusama's giant, colorful kabocha pumpkins on Naoshima, the stunning Teshima Art Museum, and the quirky Inujima Art House Project. Visit Benesse Art Site for information on the art islands and the Benesse House hotel.
Read more: Explore Naoshima
Isamu Noguchi Garden Museum Japan
Kagawa Prefecture
A short ferry ride from Naoshima, and just outside the coastal city of Takamatsu, you'll find The Isamu Noguchi Garden Museum Japan. Noguchi worked here in Mure, a small town just outside of Takamatsu, for six months of the year for the last twenty years of his career. The museum is a result of Noguchi's wish that his studio in Mure, be made into a space like his New York museum. The museum has 150 sculptures, but because many of remaining are unfinished, space feels more like a true artist's studio than a museum.
Adachi Museum of Art
Shimane Prefecture
One of Japan's most renowned gardens does not date from hundreds of years ago, but just a couple of decades old. The Adachi Museum of Art, located about 40 minutes from the city of Matsue, is home to a garden many consider the best in Japan. The garden beautifully blends with the landscape, yet is just one reason to visit Adachi Museum. Adachi Museum also houses an impressive collection of modern and contemporary Japanese paintings, ceramics, and wood carvings. Museum founder Adachi Zenko, himself a keen gardener, was a champion of the late painter Yokoyama Taikan, and visitors will find Yokoyama's works all over the museum. Don't miss his vibrant Autumn Leaves painted on a pair of six-panel folding screens.
Miho Museum
Shiga Prefecture
About an hour and a half southeast of Kyoto, the Miho Museum is named for textile heiress Mihoko Koyama. The museum houses her private collection of Asian and Western antiques, which comprises more than 2,000 pieces, though you'll find about 250 on display. The museum, three-quarters of which is underground, was designed by I.M. Pei. He used the same French limestone found in the Louvre's reception hall.
Make sure to enjoy lunch at the Miho Museum's cafe! Meals are prepared including produce grown on the museum's grounds.
Note: The Miho Museum's exhibits are frequently changing, and the museum is closed for a large part of every year, so check the calendar before you go.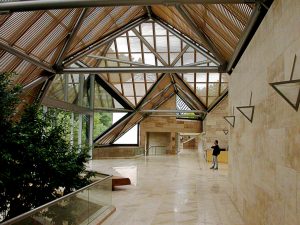 Echigo-Tsumari Art field
Niigata Prefecture
You truly have to traverse the expansive Echigo-Tsumari Art Field to believe it exists. Picture a verdant 760 km2 field covered in 160 art installations made by artists from around the globe, beautiful even when covered in snow (see some wonderful photos here). Those behind the Art Fieldwork with the local community to encourage tourism and bring visitors to this quiet area. This area is a couple of hours north of Tokyo. Visiting Echigo-Tsumari Art Field and exploring the surrounding villages is a unique and delightful way to see the Japanese countryside. If you time your visit right, you'll be there for the Echigo-Tsumari Triennale.
Arte Piazza Bibai
Hokkaido Prefecture
Located about an hour north of Sapporo, Arte Piazza Bibai is a stunning sculpture park filled with works by Kan Yasuda, himself a native of Bibai. The tranquil park, surrounded by Hokkaido's lovely nature, features 40 sculptures in all in white marble and black bronze.
Hakone Open-Air Museum
Kanagawa Prefecture
By train and bus, Hakone Open Air Museum is two hours and 20 minutes from Tokyo, making a day trip possible. The museum's name comes from the 100 outdoor art installations, by modern and contemporary masters, dotting its huge garden. On permanent display outdoors are 11 sculptures by Henry Moore. He once said, "Sculpture is an art of the open air." Indoors are 300 Picassos on display in the Picasso Pavilion, as well as more sculptures from masters like Brancusi.
While in Hakone, also pay a visit to POLA Museum of Art.
Japan is full of fabulous art destinations from art islands to immaculate gardens.
 Contact us and we will tailor a perfect Japan itinerary just for you.
[mkdf_button size="" type="" text="Take Me to Japan" custom_class="" icon_pack="font_awesome" fa_icon="" link="https://www.magnificentjapan.com/contact-us/" target="_self" color="" hover_color="" background_color="" hover_background_color="" border_color="" hover_border_color="" font_size="" font_weight="" margin=""]