Are you in desperate need of a break from the stresses of modern life? Look no further than Onsen Ryokan! It is a traditional Japanese inn that offers a unique and immersive experience for relaxation and cultural exploration. In Japan's serene rural areas, they are famous for their hot springs. It's a place where you can indulge in traditional Japanese accommodations, meals, and customs. All while enjoying the hospitality of the locals. So, why not escape the hustle and bustle of everyday life? Embark on a journey of relaxation and rejuvenation at Onsen Ryokan.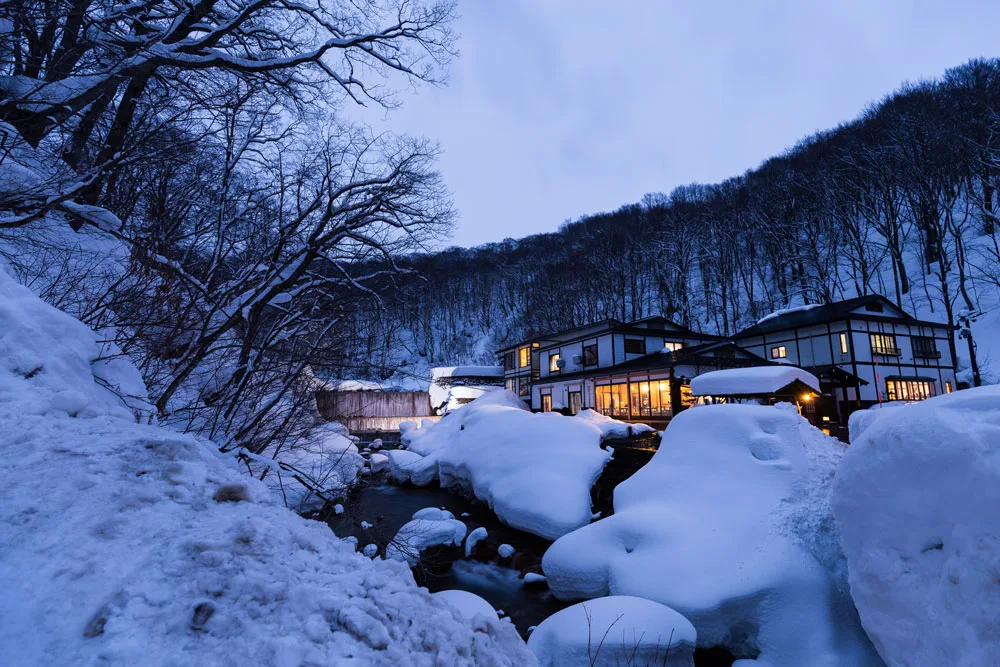 The cultural significance of Onsen Ryokan
Onsen Ryokan has deep cultural significance in Japan, dating back to ancient times. Japanese culture places great value on relaxation, and onsens are a way to achieve inner peace and tranquility. Sounds perfect, no?
Onsen Ryokan is also a place to immerse oneself in traditional Japanese customs and hospitality. From the design and layout of the accommodations to the meals. Every aspect of Onsen Ryokan has roots in Japanese tradition. It's a place where you can experience the Japanese way of life and connect with the locals in a meaningful way. Many Onsen Ryokans are family-run, and the owners take great pride in sharing their cultural heritage with visitors. By staying at an Onsen Ryokan, you can gain a deeper understanding and appreciation of Japanese culture and customs.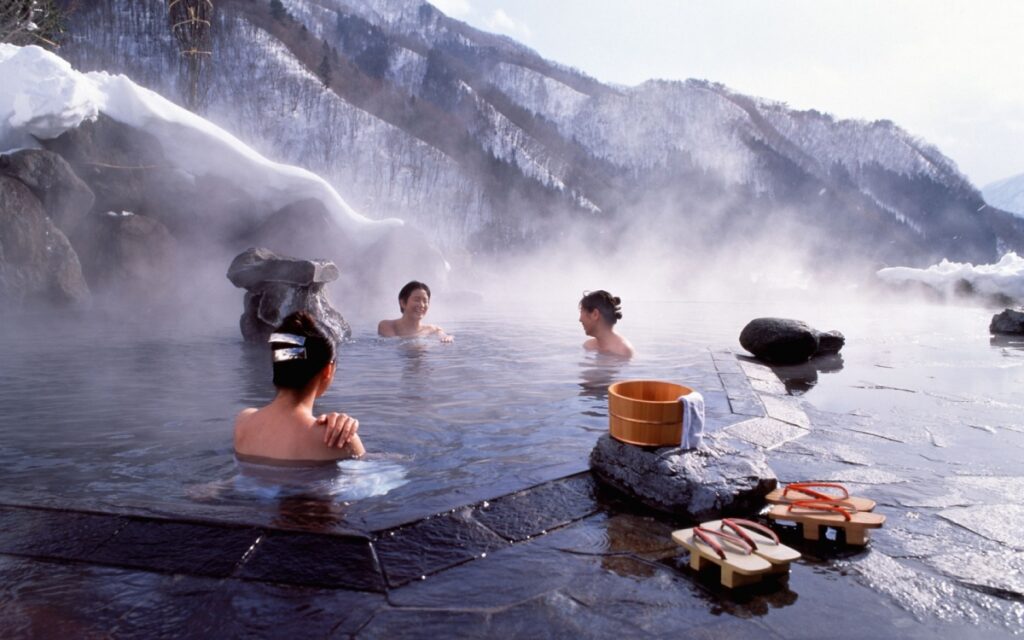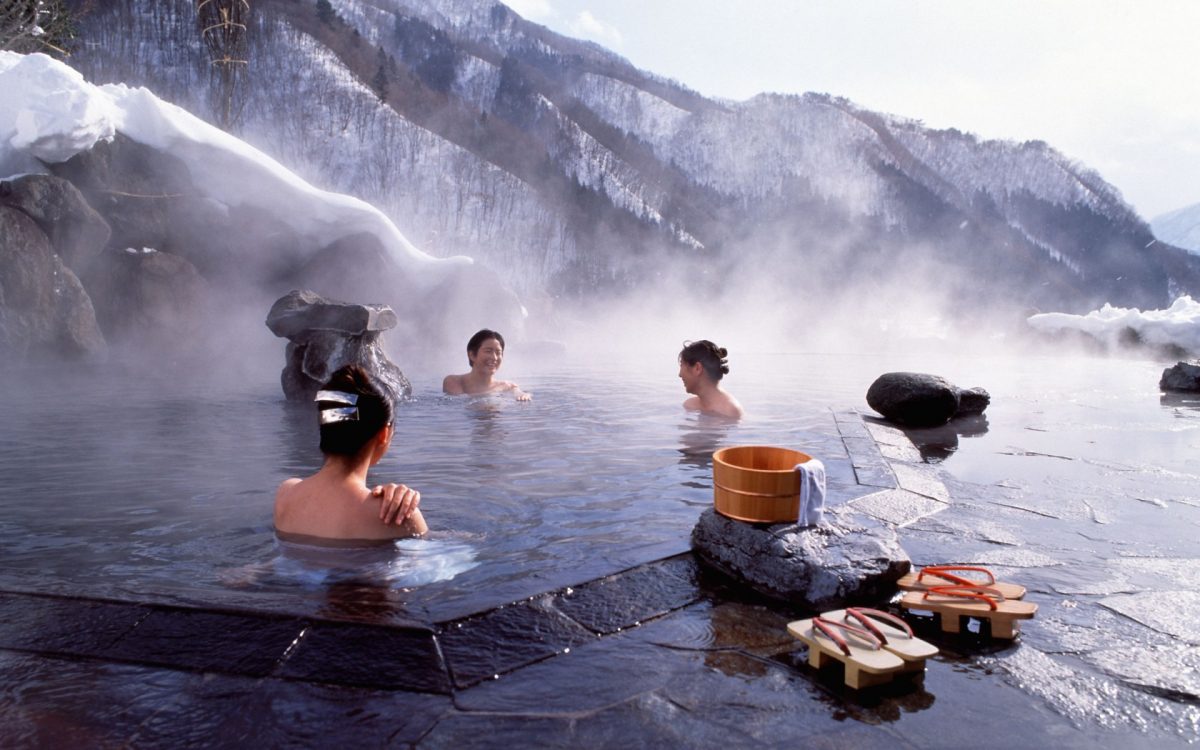 Why choose Onsen Ryokan for relaxation?
If you're looking for the ultimate relaxation experience, Onsen Ryokan may just be the perfect choice for you. These traditional Japanese inns offer a serene and tranquil atmosphere. As well as a range of amenities designed to soothe the body and mind.
One of the biggest draws of Onsen Ryokan is the hot spring baths. These natural thermal pools are full of mineral-rich water and have therapeutic properties. Relaxing in a hot spring bath is a time-honored Japanese tradition. And many people find that it helps to alleviate stress and soothe sore muscles and joints.
In addition to the hot spring baths, Onsen Ryokan offers a range of other amenities designed to promote relaxation and well-being. Guests may enjoy spa treatments such as shiatsu massage and facial treatments. Or participate in cultural activities such as tea ceremonies or meditation sessions. Many Ryokans also offer yoga classes or other fitness activities to help guests stay active and energized during their stay.
Meals are another highlight of the Onsen Ryokan experience. With many Ryokans offer traditional kaiseki cuisine that is both beautiful and delicious. The multi-course meals showcase the freshest seasonal ingredients and you may enjoy in a communal dining room or in the privacy of your own room.
Overall, Onsen Ryokan offers a unique and immersive experience that combines relaxation, cultural immersion, and wellness. Whether you're looking to unwind and de-stress, or simply want to immerse yourself in Japanese culture, Onsen Ryokan provides the perfect setting for an unforgettable stay.
What to expect during your stay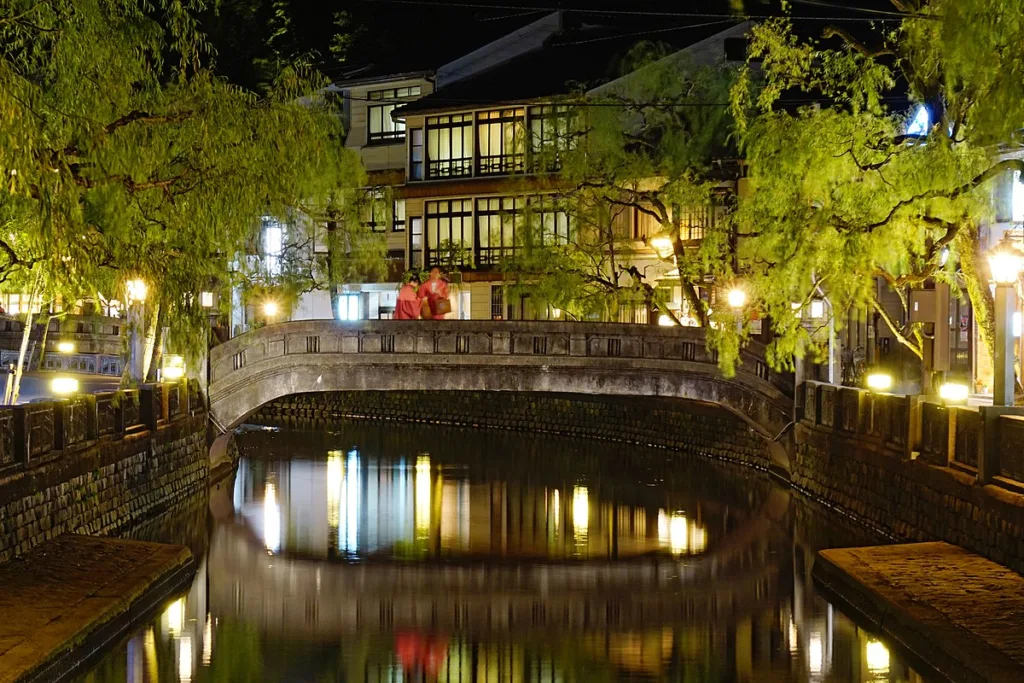 The accommodations and amenities typically offered
Onsen Ryokan offers a unique and authentic accommodation experience, with traditional Japanese-style rooms, futon beds, and shared hot spring baths. The rooms often have a minimalist aesthetic, featuring tatami flooring, shoji screens, and low furniture such as tables and chairs. Some Onsen Ryokan also offers Western-style beds, but these are less common. Guests typically sleep on futons placed directly on the tatami mat flooring.
In addition to the hot spring baths, Onsen Ryokan may also offer a range of other amenities for guests. These may include communal spaces such as lounges and dining areas, as well as private dining rooms for families or groups. Some Onsen Ryokan also have gardens or outdoor spaces where guests can relax and enjoy the scenery.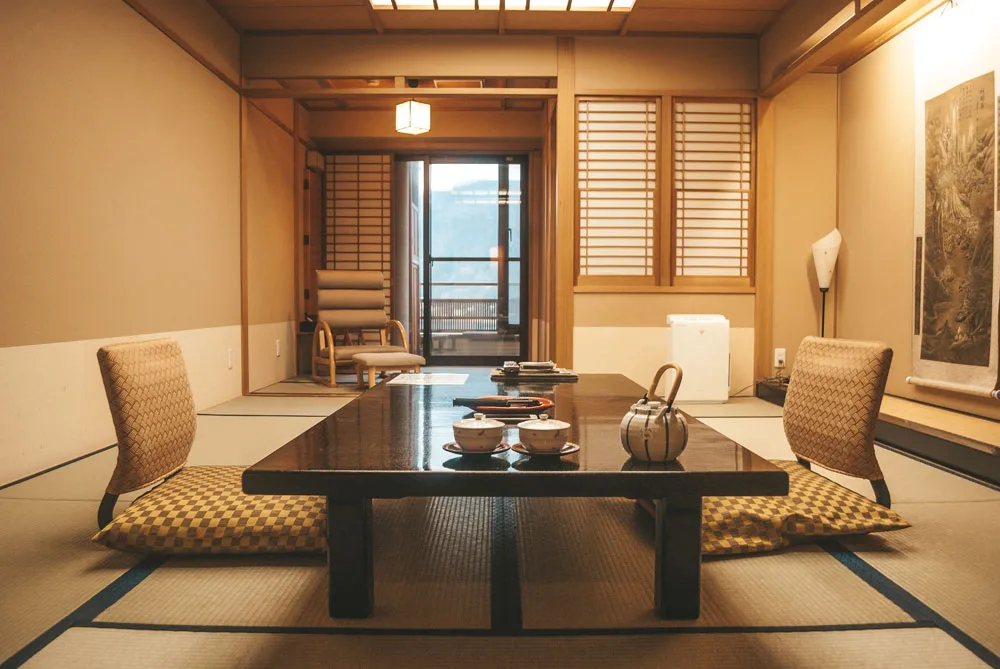 The traditional Japanese meals and cultural experiences available at Onsen Ryokan
One of the most popular aspects of staying at an Onsen Ryokan is the traditional Japanese meals or kaiseki cuisine. Kaiseki meals are multi-course and they are carefully showcasing the seasonality and freshness of ingredients. Meals typically feature a variety of dishes such as sashimi, grilled fish, tofu, and seasonal vegetables. All are beautifully presented on exquisite Japanese tableware. Dining at an Onsen Ryokan provides a unique opportunity to indulge in authentic Japanese cuisine and explore the country's culinary traditions.
In addition to the cuisine, Onsen Ryokan also offers various cultural experiences that allow visitors to fully immerse themselves in Japanese culture. Many Onsen Ryokan offers traditional tea ceremonies. There guests can learn about the art of making tea and enjoy a cup of matcha in a serene setting. Visitors can also participate in Japanese-style meditation, called zazen, or take part in a traditional Japanese kimono dressing experience. These activities provide a glimpse into the intricacies of Japanese customs.
Overall, staying at an Onsen Ryokan provides a truly authentic and unforgettable experience for travelers interested in Japanese culture and cuisine. From the traditional kaiseki meals to the cultural activities and relaxing onsens, Onsen Ryokan offers a complete immersion in Japanese traditions and hospitality.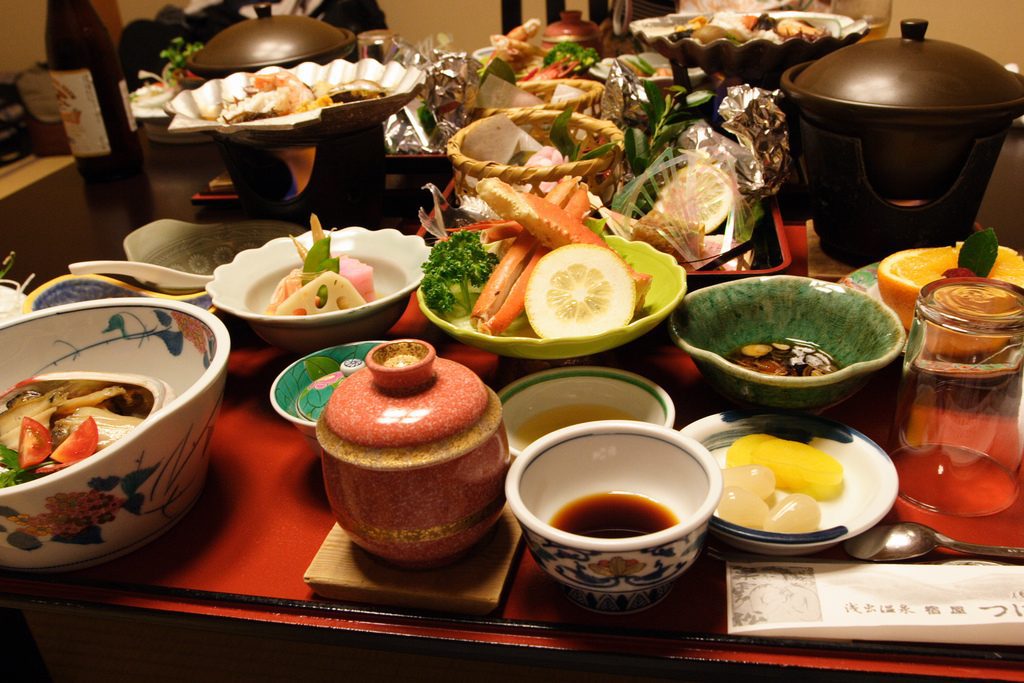 Cultural customs and etiquette to be aware of before visiting Onsen Ryokan
If you're planning a stay at an Onsen Ryokan, there are some cultural customs and etiquette you should be aware of before you go to ensure you have a comfortable and respectful experience.
Firstly, it's important to note that Onsen Ryokan is typically quite traditional in its decor and amenities. This means that you'll likely be sleeping on a futon mattress on the floor, using shared bathrooms and onsens, and dressing in yukatas (casual kimonos) provided by the Ryokan. Be prepared for a different type of accommodation experience than you may be used to in Western-style hotels.
When it comes to cultural customs, it's important to understand that cleanliness is highly valued in Japan. Before entering an onsen or shared bathing area, you must wash your body thoroughly and completely, including your hair. Additionally, you'll need to remove your shoes before entering any indoor areas of the Ryokan and may be provided with slippers or sandals to wear inside. It's also customary to bow as a sign of respect when greeting or thanking staff members.
Another important custom to be aware of is the use of communal spaces. Many Onsen Ryokan has shared dining and relaxation areas, and it's important to be mindful of others using the space. Keep your voice low, tidy up after yourself, and be respectful of other guests' privacy.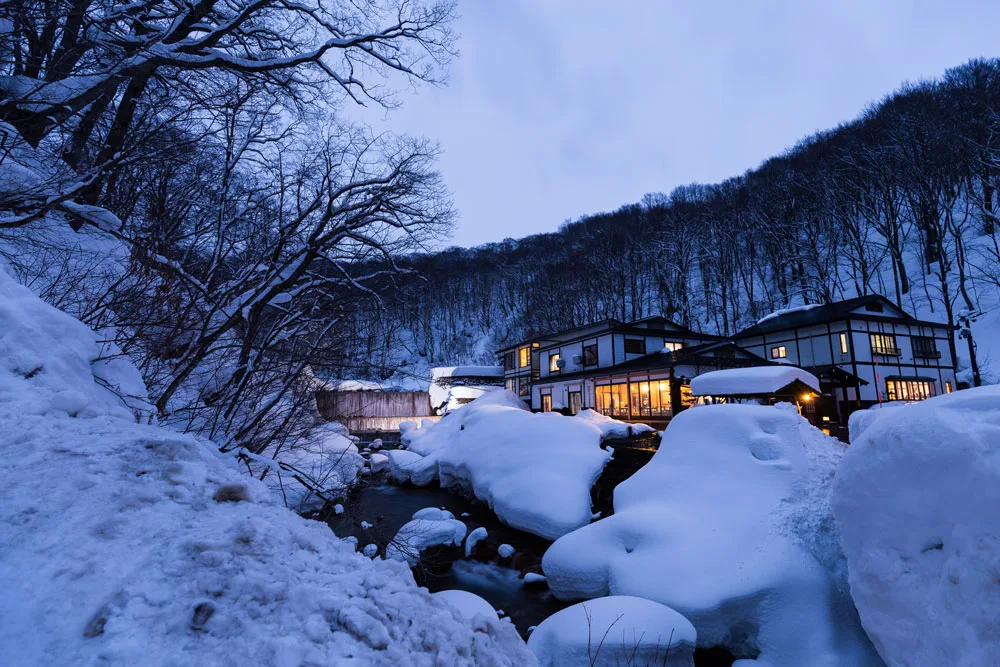 Onsen etiquette
When it comes to onsen etiquette, it's important to know that tattoos are often viewed as a sign of criminal affiliation in Japan. And as such, many onsens have policies prohibiting guests with visible tattoos from using the facilities. If you have a tattoo, it's best to check with Ryokan beforehand to see if they have any policies regarding tattoos.
Overall, preparing for your Onsen Ryokan stay means embracing a different type of accommodation experience and being respectful of Japanese customs and etiquette. By doing so, you'll be able to fully appreciate the cultural immersion and relaxation that Onsen Ryokan has to offer.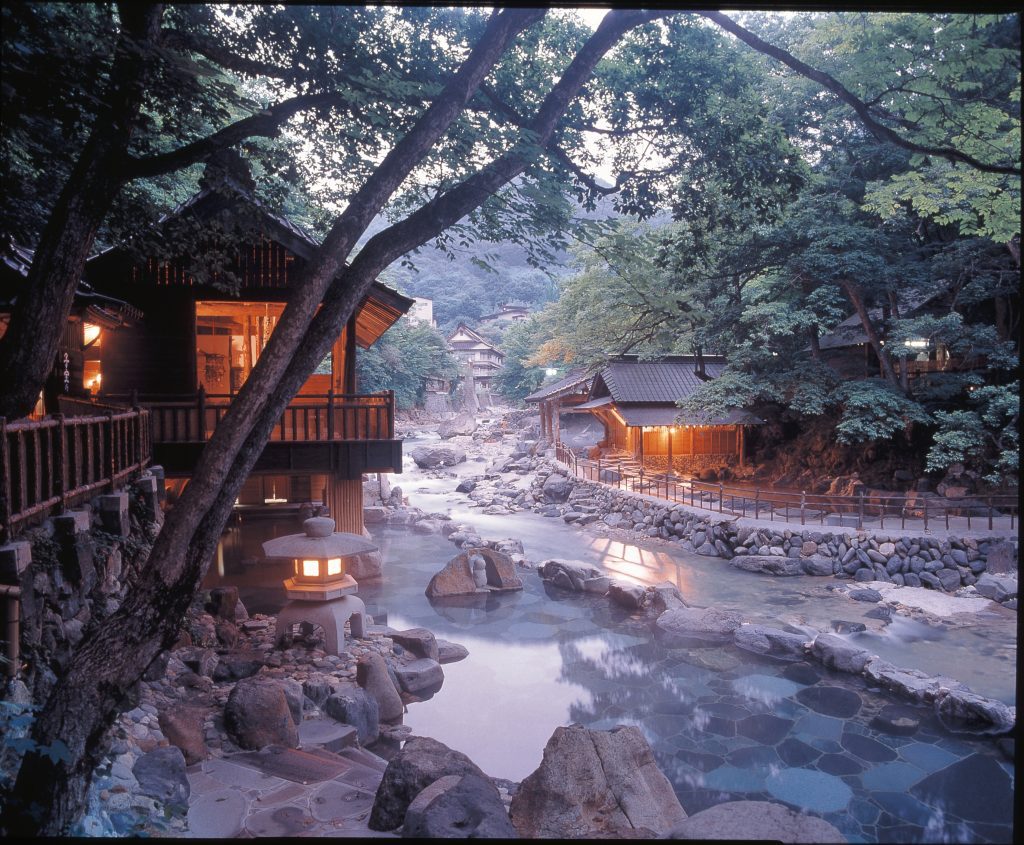 What You Should Bring To Onsen: The Basics
Bringing your personal bath products and skincare when visiting an onsen has numerous advantages. For one, it ensures that the products you use are tailored to your skin type and specific needs. Some onsen waters may contain high levels of minerals and sulfur, which may be beneficial for some skin conditions but can be harsh on others. By bringing your own products, you can ensure that your skin stays hydrated, nourished, and protected.
Moreover, using your preferred bath products can enhance your overall relaxation and enjoyment of The Onsen Experience in Japan. The scents and textures of your chosen products can promote a sense of comfort and relaxation, thereby enhancing the stress-relief benefits of soaking in an onsen.
Lastly, bringing your own products can also demonstrate your commitment to environmental conservation. Many onsen establishments provide single-use toiletries, which can increase waste. By bringing your own products, you can reduce your ecological impact and promote sustainable travel practices.
Skincare Favorites
---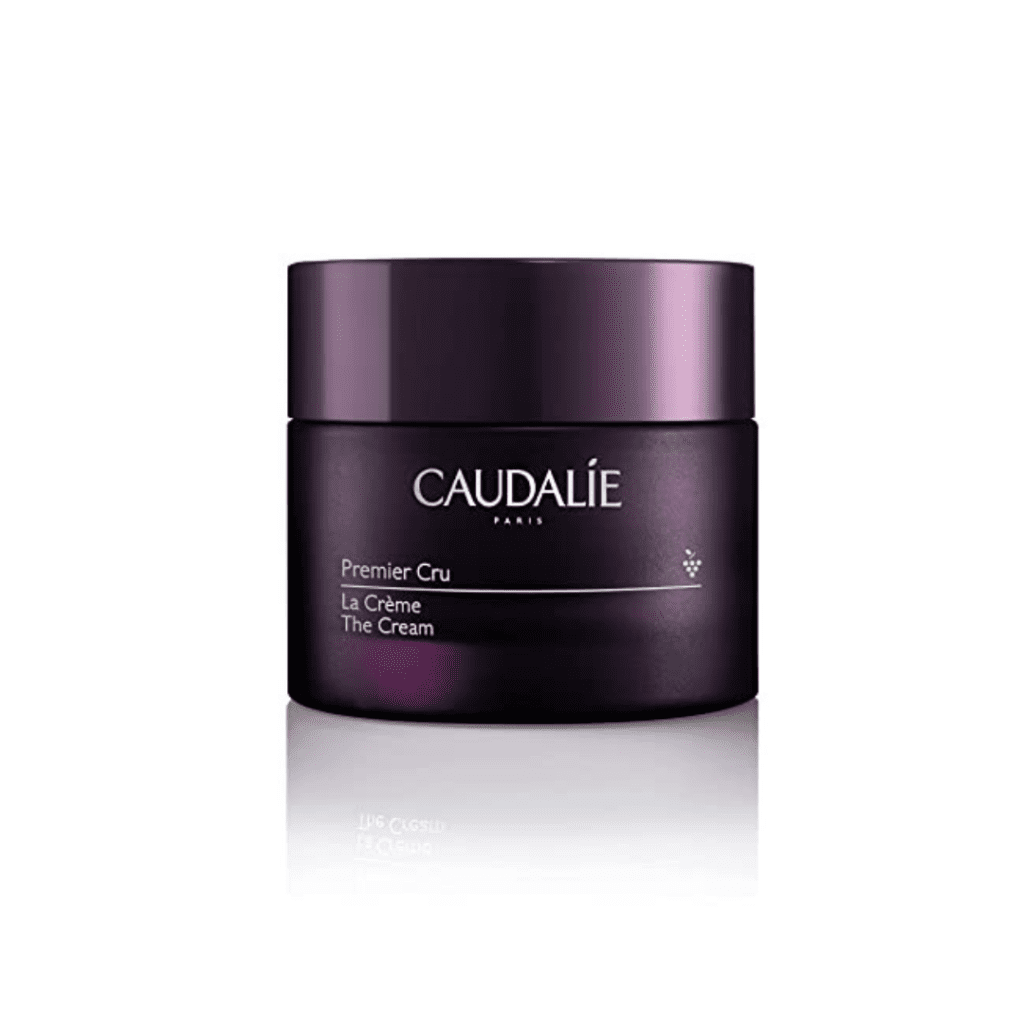 ---
How typical day during your stay looks like
A typical day at an Onsen Ryokan revolves around relaxation and rejuvenation. Guests often wake up early to enjoy a traditional Japanese breakfast. Breakfast usually includes rice, miso soup, grilled fish, pickled vegetables, and green tea. After breakfast, guests may participate in a morning meditation or yoga session to start the day with mindfulness and relaxation. Then, guests can enjoy the onsen facilities, either in their private rooms or the communal baths.
Lunch is typically a light meal, with guests encouraged to try traditional Japanese cuisine. In the afternoon, you can explore the surrounding area. You can also engage in cultural experiences such as tea ceremonies or flower arrangements. Or you can simply relax in your room or the communal lounge areas. In the evening, guests can enjoy a multi-course kaiseki dinner. Kaiseki showcases local and seasonal ingredients and is often served in a private dining room. After dinner, you can retire to your room or the communal areas for more relaxation or entertainment, such as karaoke or board games.
A day at an Onsen Ryokan is a true retreat from the outside world!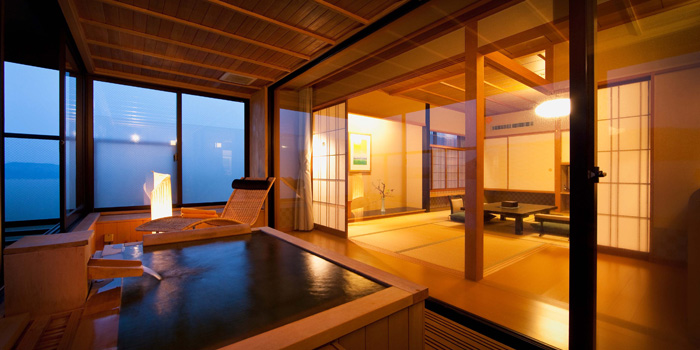 Some of the most popular Onsen Ryokans in Japan:
Kinosaki Onsen
Located in Hyogo Prefecture, Kinosaki Onsen is one of Japan's most famous hot spring resorts. This charming town is home to seven public hot spring baths, each with its own unique character and ambiance. Visitors can also enjoy strolling the town's atmospheric streets, trying local seafood dishes, and participating in cultural experiences such as sake-tasting and kimono-wearing.
Ginzan Onsen
This small hot spring town in Yamagata Prefecture is known for its historic wooden buildings and picturesque scenery. Visitors can soak in the town's hot spring baths. Those are set among the scenic mountains and forests and enjoy delicious local cuisine such as grilled river fish and soba noodles.
Hakone
Located just a short distance from Tokyo, Hakone is a popular Onsen Ryokan destination. Thanks to its stunning natural scenery and easy access from the capital city. Visitors can soak in hot spring baths with views of Mt. Fuji, take a scenic cable car ride, and visit the famous Open-Air Museum.
Kusatsu Onsen
Located in Gunma Prefecture, Kusatsu Onsen is known for having some of the hottest and most mineral-rich hot spring water in Japan. Visitors can enjoy the town's unique Yumomi performance. It involves stirring the hot spring water with wooden paddles to cool it down, as well as exploring the town's traditional streets and trying local delicacies such as onsen manju (sweet buns filled with red bean paste).
Beppu Onsen
Located on the southern island of Kyushu, Beppu is Japan's most famous hot spring resort. Visitors can soak in the town's many hot spring baths, which range from traditional wooden tubs to mud baths and sand baths, and enjoy local delicacies such as steamed buns filled with seafood and vegetables. Beppu is also known for its "hell" hot springs, which are too hot for bathing but are still fascinating to visit.
Noboribetsu Onsen
Located in Hokkaido, Noboribetsu Onsen is one of Japan's most famous hot spring resorts. Visitors can soak in the town's many hot spring baths which are known for their healing properties. Explore the nearby Jigokudani (Hell Valley), which is filled with bubbling hot springs and steam vents.
Arima Onsen
Located in Hyogo Prefecture, Arima Onsen is one of Japan's oldest and most famous hot spring resorts. The town is known for its high-quality hot spring water, which is said to have medicinal properties. Visitors can also explore the town's historic streets and try local delicacies such as Arima scones and crab dishes.
Yufuin Onsen
Located in Oita Prefecture on the island of Kyushu, Yufuin Onsen is a charming hot spring town surrounded by scenic mountains and forests. Visitors can soak in the town's many hot spring baths. They can range from traditional wooden tubs to modern facilities with views of the surrounding scenery. The town is also known for its boutique shops, art galleries, and trendy cafes.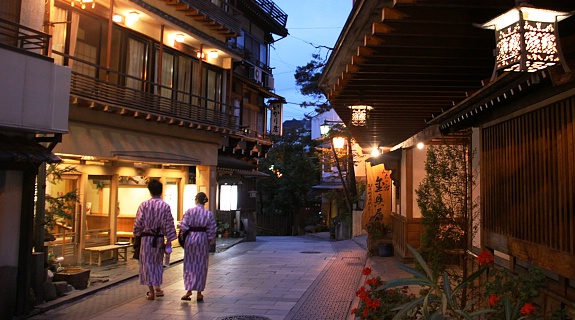 Experience the ultimate in relaxation and cultural immersion.
If you're looking for a unique and authentic way to experience Japanese culture and relaxation, booking a stay at an Onsen Ryokan is a must. From the tranquil and serene environment to the traditional Japanese meals and hospitality. Every aspect of your stay will immerse you in the Japanese way of life. The hot springs themselves offer a rejuvenating and therapeutic experience that will leave you feeling refreshed and revitalized. Why not book your stay now and immerse yourself in the art of relaxation at an Onsen Ryokan?