Tokyo is the busiest capital in Japan. We will discuss Top Scenic Spots in Tokyo it is Located in the Kanto region with 2,194 km2. It's the largest city since the 17th century and is often called Greater Tokyo. The world's most populated city as the population escalated in the 19th century.
As the development continues in infrastructure and designs, the city becomes modernized. And it also became more famous because of its modernization. Keeping its culture and heritage continues. Known for its many beautiful sceneries that capture the heart of thousands of travelers.
Tokyo is often visited by adventurous individuals because of its prevailing beauty. Prepared a list of Top Scenic Spots in Tokyo to guide you on your way.
A bucket list check! Make it your way to Tokyo. Explore and experience their top 15 scenic spots. It would be worth your travel.
Visit one of the top scenic spots in Tokyo – The Imperial Palace Grounds and Gardens.
A large park-like area situated in the center of Chiyoda District and surrounded by buildings, museums, and the Imperial Palace Home. Located in the center of Chiyoda District is the home of the Imperial Family.

The Imperial Palace Grounds and Garden is well maintained; thus, the inner grounds are off-limits to visitors. Yet, there are notable features to visit. And these are the three gardens surrounding the palace. First is the East Garden.
The second is the Kokyo Gaien National Garden. , lastly Kitanomaru Park. Offered guided tours on the Palace ground on a specified daily schedule. The tour will last for almost 75 minutes. Indeed, a top scenic spot in Tokyo.
Useful Information:
Location: 1-1 Chiyoda, Chiyoda City, Tokyo 100-0001, Japan
The Magical View of Mount Fuji – another Top Scenic Spot in Tokyo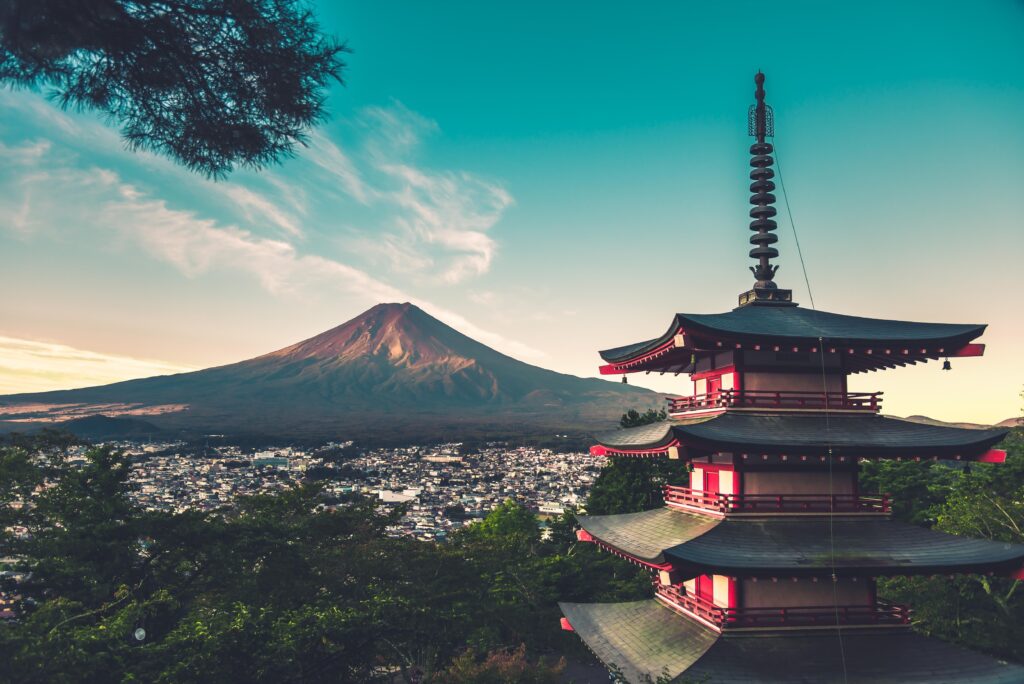 Mount Fuji-Top Scenic Spots in Tokyo
One of the top scenic spots in Tokyo is Mount Fuji. Located near the Pacific Ocean and Shizuoka Prefecture. Mount Fuji is the highest mountain. Indeed, the most iconic landmark in Japan. A volcano that has been dormant since 1707 and is the second highest in Asia. Designated as the center of the Unesco World Heritage site in 2013. 

Mount Fuji is a long-time Japan's famous tourist attraction. Japanese people consider climbing the mountain a religious practice. Temples and Shrines are most likely located around the volcano. Located on the northern slopes of the mountain are Five lakes. And these are Lake Yamanaka, Lake Kawaguchi, Lake Sai, Lake Shoji, and Lake Motusu.
Another way to view the famous volcano is a train trip between Tokyo and Osaka. However, clouds can often block the best view of Mount Fuji. Best to see its beauty during the cold season and not in the summer. in the morning and late evening hours.
Useful Information:
Location: Fuji-Hakone-Izu National Park
Experience the unique features of Tokyo Skytree Tower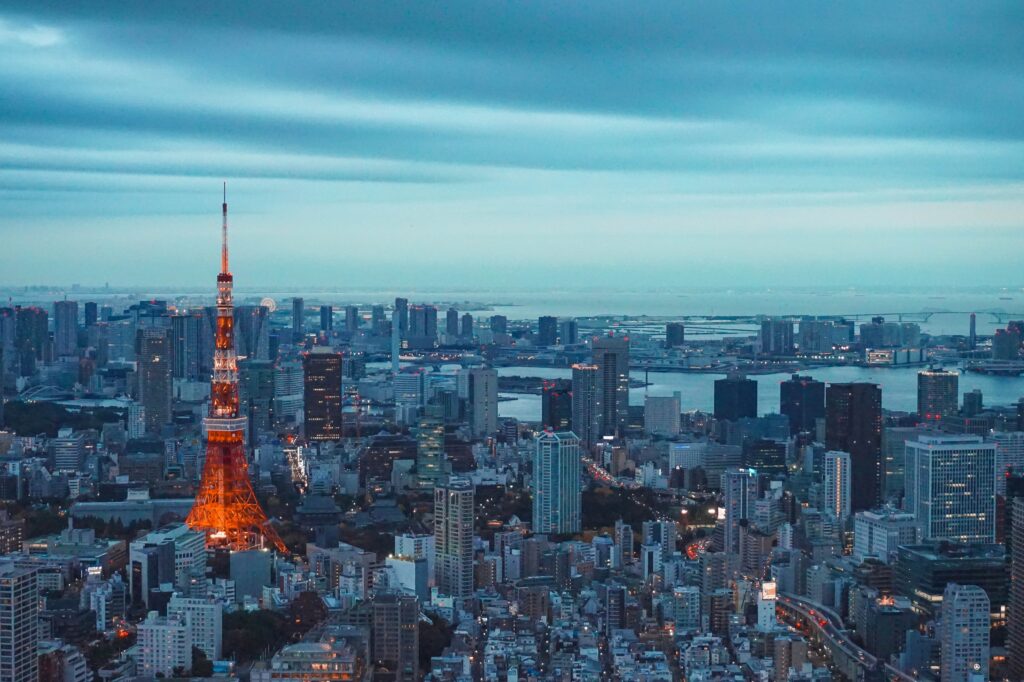 Skytree Tower -Top Scenic Spots in Tokyo
A broadcasting and observation tower located in Sumida, Tokyo. The tallest structure in Japan with a height of 634 meters. The tower has two main observation decks, the Tembo Deck and Tembo Galleria. And built-in an earthquake-proof structure. One of the top scenic spots in Tokyo to look into.
Skytree Tower offers spectacular views from the top. Enjoy a shopping spree at Skytree's souvenir shop. Please your cravings in Sky Restaurant. Relax and enjoy the views from the top over a cup of coffee in Skytree Cafe. Finish your day with cold drinks at Skytree Arena. It is one of the top scenic spots in Tokyo that most travelers are often visiting.
Useful Information:
Location: 1−, 1 Chome-1-2 Oshiage, Sumida City, Tokyo 131-0045, Japa
4. Feel and enjoy the natural beauty of Tokyo's top scenic spot – The Golden Pavilion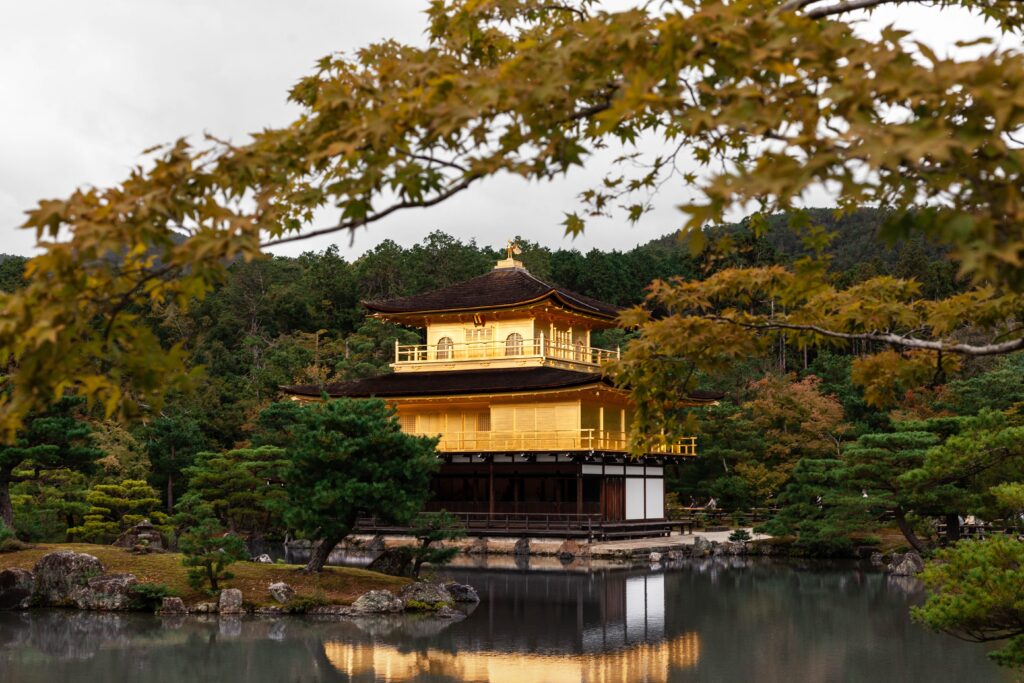 Kinkaku-ji
Kinkaku-Ji, most known as the Golden Pavilion, is a  Zen Temple located in northern Kyoto. Designated as a National Special Historic Site. A retirement complex to Yoshimitsu that has an impressive structure. Covered in gold leaf attributes to purify negative thoughts and feelings about death. It burned down and was rebuilt in 1955.
The crowd gathers around the area because of its natural beauty. That is to say, the best time to visit is in the morning. An admission fee requires at the rate of 300 to 400 yen. Truly one of the top scenic spots that you can enjoy!
Useful Information:
Location: 1 Kinkakuji-cho, Kita-ku, Kyoto, Kyoto Prefecture
Scramble in Shibuya Pedestrian Crossing – feel the unique features of this Top Scenic Spots in Tokyo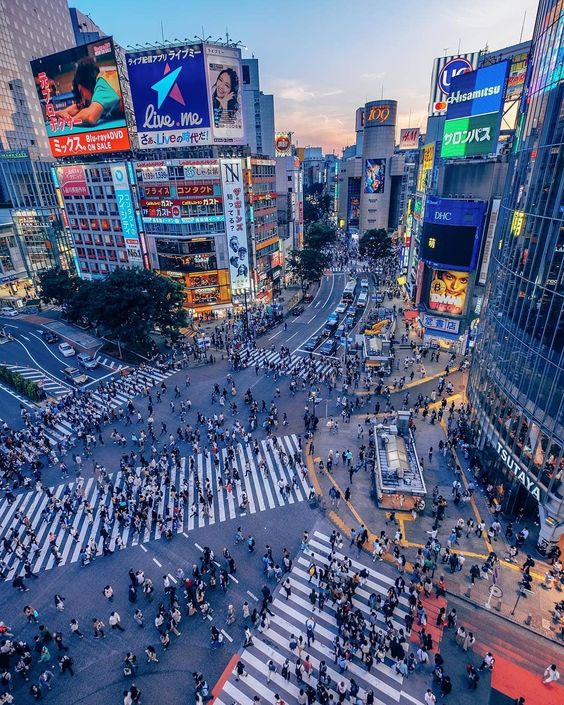 Shibuya Pedestrian Crossing is a popular scramble crossing in Tokyo, Japan. Featured in several television programs very often. The iconic Statue of Hachiko lies between the Shibuya station and the intersection. The busiest pedestrian crossing in the world indeed.
A lively haven for youthful party-goers. And a fun-filled night to spend at bars and restaurants along the area.
Additional Information:
Location: 2 Chome -2-1 Dogenzaka, Shibuya City
Discover the beauty of the Meiji Shrine-Top Scenic Spots in Tokyo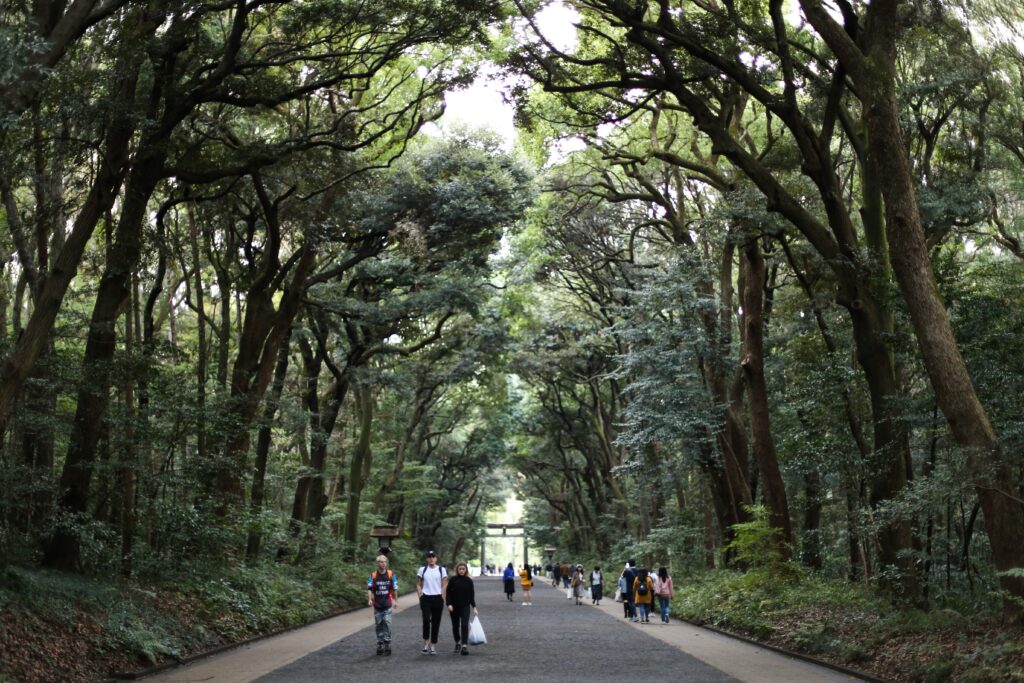 A Shrine dedicates to Emperor Meiji and Empress Shoken. Destroyed during the war but was rebuilt. And one of Japan's popular shrines. Surrounded by approximately 100,000 trees, make it is more relaxing in the eyes of the visitors.
Composed of two major areas, the Naien and Gaien. Naien is the inner precinct while Gaien is the outer precinct. Found in Naien is the Treasure museum that showcases the articles of the Emperor and Empress. Meiji Memorial Picture Gallery and various stadiums and sports facilities are on Gaien.
Visitors can take part in the Shrine's Shino activities. They can buy charms and amulets. Offerings are in the hall as people celebrate festivals.
Additional Information:
Location: 1-1 Yoyogikamizonocho, Shibuya City, Tokyo 151-8557, Japan
Japanese macaques at Jigokudani Monkey Park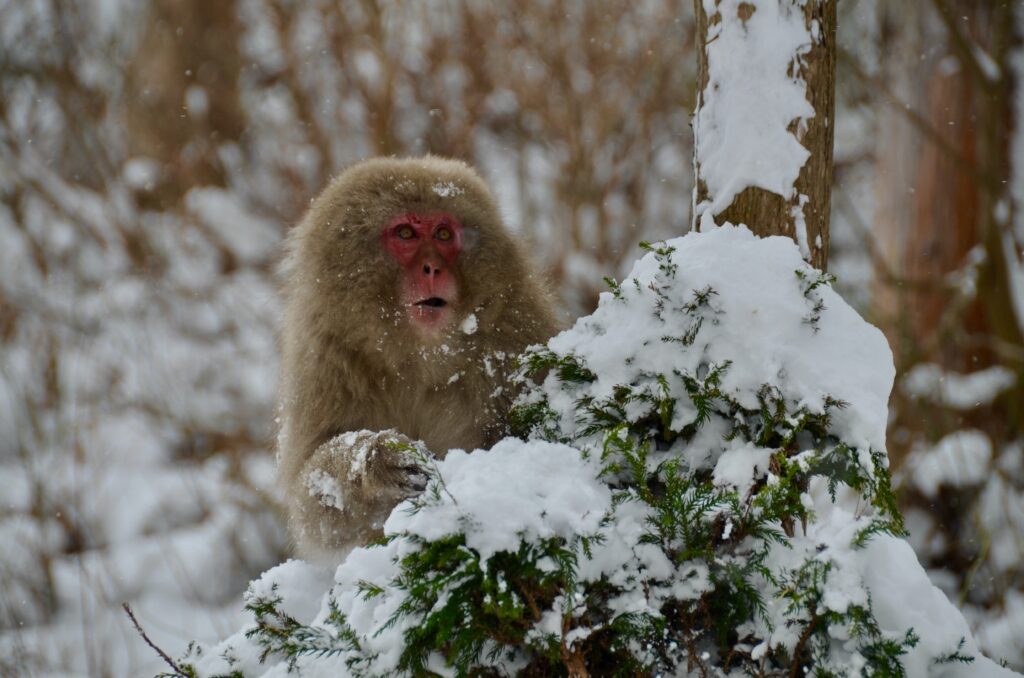 The park is part of Joshinetsu Kogen National Park and is located in the valley of the Yokoyu River. Founded by a man named Sogo Hara, the park was established in 1964. Jigokudani Monkey Park is famous for its large population of Japanese Macaques. And known as snow monkeys. Macaques come into the park. It became famous globally as it attracts thousands of visitors yearly. 
Useful Information:
Location: 6845 Hirao, Yamanochi, Shimotakai District, Nagano 381-0401, Japan
A colorful Senso-ji Temple-Top Scenic Spots in Tokyo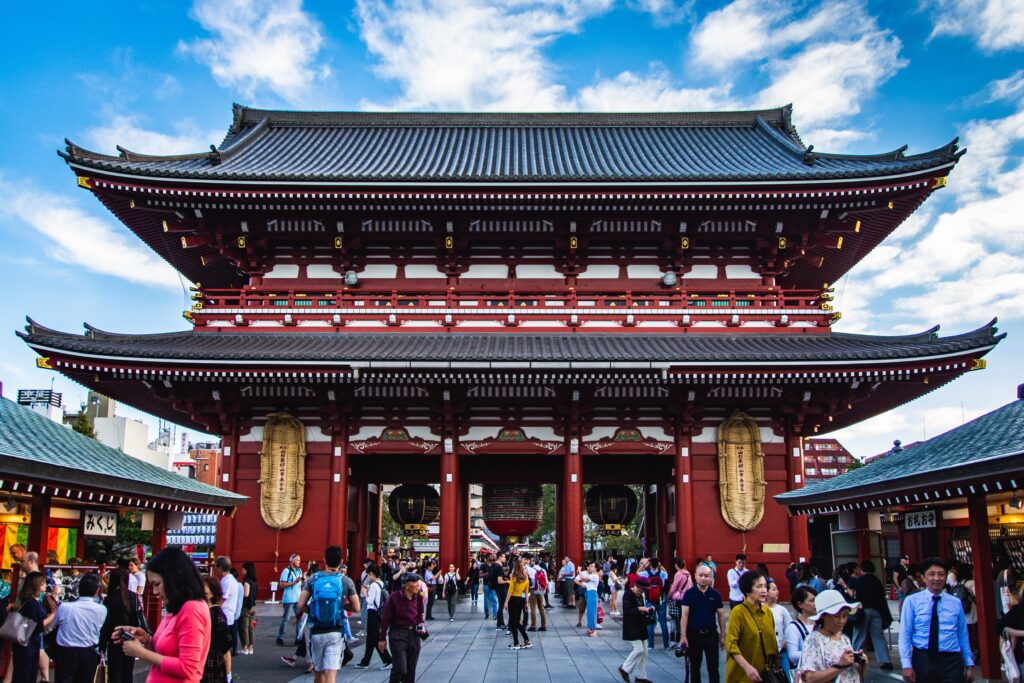 Senso-Ji Temple is also known as Asakusa Kannon Temple. It is a Buddhist temple located in Asakusa. Built for the Goddess of Kannon. And it is the oldest of Japan's temples. Two gates are connecting the temple.
First is the outer gate called Kaminarimon (Thunder Gate). The second gate is called Hozomon. Kaminarimon is very popular with tourists because of its colorful lanterns and statues. Japanese Buddhist architecture has been showcased here.
Traditional shops and eating places are circling around the area. In addition, souvenir shops are lined on Nakamise-Dori street.
Useful Information:
Location: 2-chome-3-1 Asakusa, Taito City, Tokyo 111-0032, Japan
Explore the amazing Himeji Castle – Top Scenic Spots in Tokyo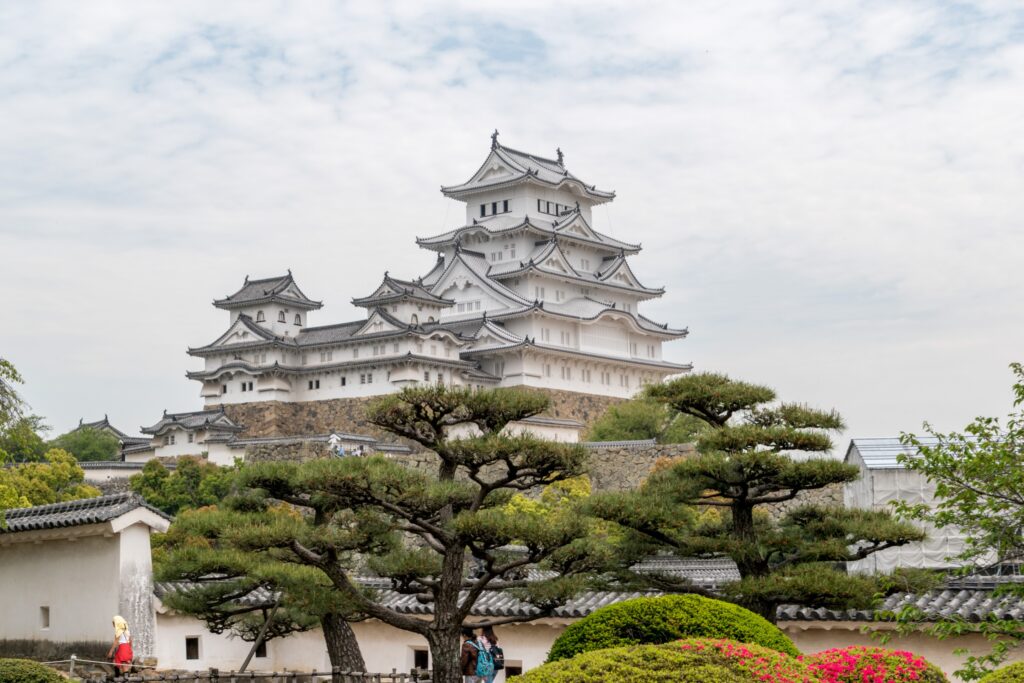 Known as White Heron Castle. Its extravagant and spectacular beauty made it the world's most famous castle. Never been damaged by an earthquake, typhoon, war, or even fire. Made up of 80 buildings surrounding the castle and connected by a series of gates and winding paths. One of the top scenic spots in Tokyo has been an excellent example of Japanese architecture. And is one of the three premier castles in the country.
Useful Information:
Location: 68 Honmachi, Himeji, Hyogo 670-0012 Japan
Reminisce at the historical Hiroshima Peace Memorial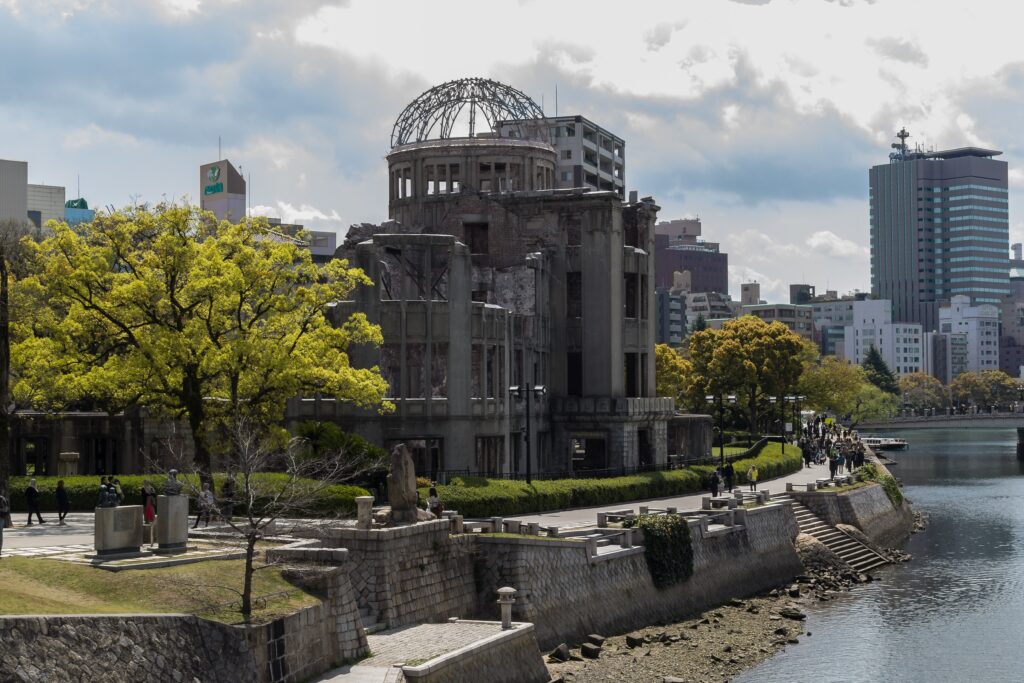 Designated as a UNESCO World Heritage Site back in 1996. Called the Genbaku Dome, Atomic Bomb Dome, or A-Bomb Dome. It is one of the few structures left standing near the hypocenter. Definitely, one of the most prominent features in the city and is beautiful. Also to this, an anniversary is celebrated
Useful Information:
Location: Hiroshima Japan
Shopping spree at Ginza District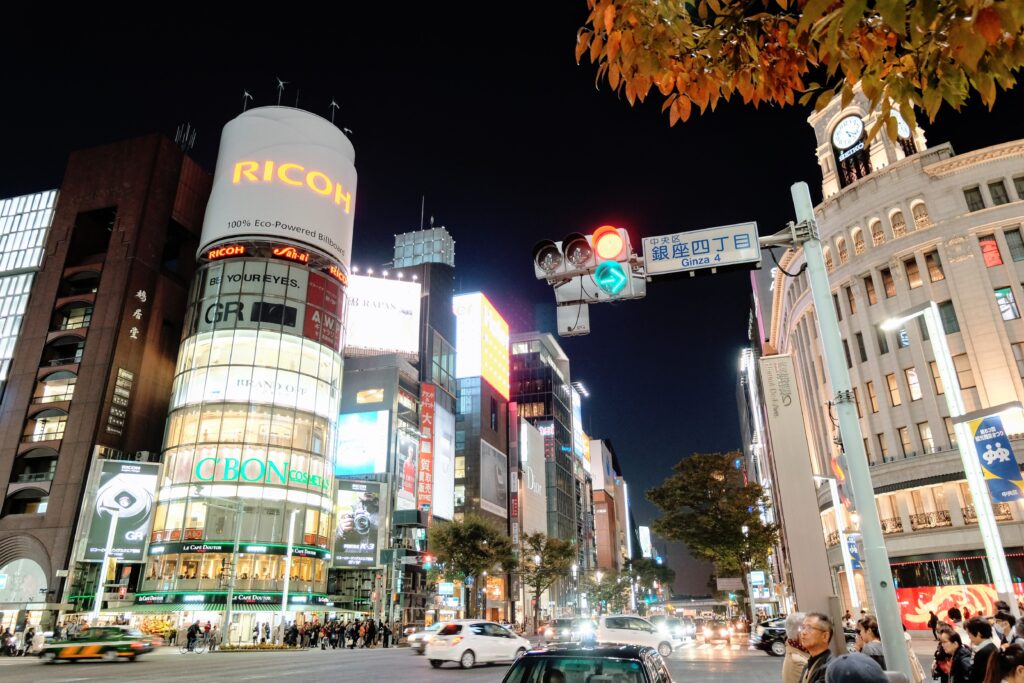 The most luxurious shopping district in Tokyo and one of the best in the world. Japan's best-known and most magnificent shopping stores are here. Scattered around the area are popular international brands, restaurants, bars, and cafes.
A perfect place for strolling and a shopping spree. Discover the latest in technology and fashion trends. Indeed very luxurious.
Useful Information:
Location: south of Yaesu and Kyobashi, west of Tsukiji, east of Yurakucho and Uchisaiwaicho, and north of Shinabashi
Discover the world at the National Museum of Nature and Science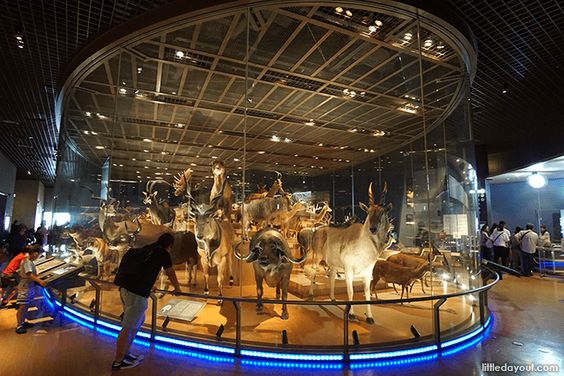 The National Museum of Nature and Science is Japan's biggest Science Museum. Exhibiting almost 25,000 exhibits exploring everything about outer space and dinosaurs. It also features Japan's history, climate, and geography. A 360-degree theater is also showcased.
Useful information:
Location: Northern Tokyo, Ueno
Feel the beauty of cherry blossoms at Ueno Park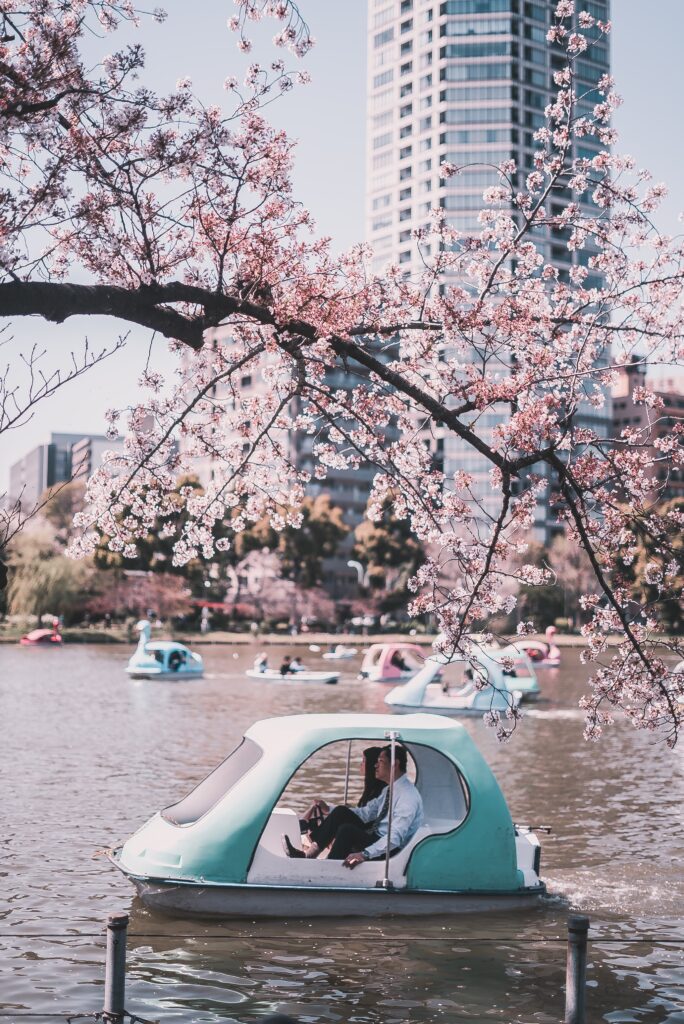 A large public park in Tokyo and a popular cherry blossom spot. Shinobazu Pond can be seen on the southwestern end of the park. Apart from this, several museums can also be found here.
Museums like Tokyo National Museum, Tokyo Metropolitan Art Musem, and National Science Museum are popular. The first zoological zoo, Ueno Zoo, can also be found here. Also, Ueno Park is one of the famous cherry blossom spots. The blooming season is March and April. Indeed one of the most awaited seasons for travelers. The top scenic spot that every traveler can look up to.
Useful Information:
Location: Japan, 〒110-0007 Tokyo, Taito City, Uenokoen
A Family get-away to Tokyo Dome City Attractions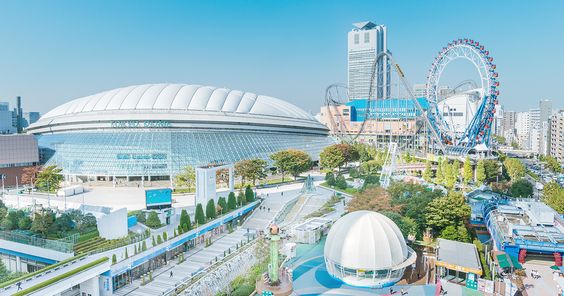 An amusement park located in the center of the city. An all-in-one attraction that offers all-in-one features. Amusement park, hotel, and restaurant. And shopping centers.
Everyone can enjoy it as a variety of attractions are offered. Admission is free as everyone can enjoy the beauty of the park. However, tickets are sold if you want to experience and enjoy the rides available. Moreso, several other activities are offered. Hotels, spas, restaurants, museums, and events halls are the added features of the dome.
Useful Information:
Location: 1 Chome-3-61 Koraku, Bunkyo City, Tokyo 112-0004, Japan
Escape from the busiest city in Japan Top Scenic Spots in Tokyo- Lake Okutama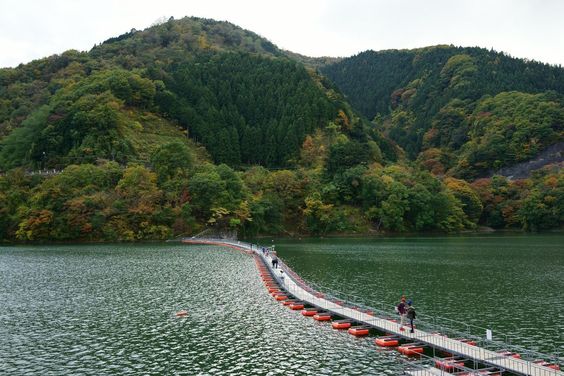 Lake Okutama is in Tokyo and Yamanashi Prefecture.  An important source of water for Tokyo and is located in the western outskirts of Tokyo.
A perfect getaway for some who want to escape from the busiest city in the world. The twelve Majestic Mountains' amazing views welcome travelers. As you go along the twelve mountain peaks, several outdoor activities, including hiking, await everyone. A Drum Bridge is stretched across the part of the lake.
pedestrian bridge a Top Scenic Spots in Tokyo
And a pedestrian bridge that floats on top of the water is undeniably awesome. A natural hot spring close to Okutama is perfect for a warm bath. Also, the excitement continues as you try to explore and experience the watersports activities.
Indeed one of the best top scenic spots in Tokyo. Undoubtedly breathtaking. Indeed a perfect getaway from the city.
Overwhelmed by the abundant ideas for choosing your next travel adventure?
To give you more insights into this, you can check out the link below.
https://www.amazon.com/-/es/CBTLVSN-Camisa-hombre-botones-s%C3%B3lidos/dp/1940842328/ref=sr_1_8?__mk_es_US=%C3%85M%C3%85%C5%BD%C3%95%C3%91&crid=3B23RCM6B7Y0W&dchild=1&keywords=tokyo+photography&qid=1620624130&sprefix=tokyo+photography%2Caps%2C351&sr=8-8
This will somehow enlighten you more about the idea of having a vacation in Tokyo, Japan. It would be a trip worth remembering and an experience to share with your loved ones. Memories never fade.  Instagramable pictures and moments to share with. Traveling will somehow give you more opportunities to meet new friends. Explore the city's culture and heritage and discover its innovative technology.
Looking for the right accommodation? Worry not! Several hotels, whether luxurious or budget-friendly, are always available. A bucket list check! What are you waiting for? Book now!