Tokyo Ice Cream Shops
One of the perks of summer is ice cream. Cold, sweet, and ideally with a flake in it, there's nothing better on a hot day. Hence, you'll be wanting to make your way to these Tokyo ice cream shops.
Tokyo, as it does with many things, takes ice cream to the next level. While of course, you can get your usual 99 with a flake at Maccy D's, or a soft serve from Family Mart, none of this spark that childhood excitement of a towering cone of brightly colored joy. Now, depending on what pulls your strings, this excitement can come in different forms. It could be from 8 levels of a rainbow, precariously balanced and almost impossible to successfully eat, or it could be a flavor so intense you need to sit down.
How about experimenting with flavors you never even knew existed—dig into a scoop of eel ice cream, or maybe have a try tulip gelato? It's not all about the ice cream these days though, how about a cone made of a freshly baked croissant for all your brunch snack needs? Whatever you fancy, find it all and more at these Tokyo ice cream shops.
Daily Chico: 8-Flavor Ice Cream Tower
Sometimes you just want ice cream, and sometimes you want a lot of it. Rather than sitting at home with a bucket of Ben and Jerry's, why not head out to Nakano and try 8 flavors at once—from Ramune soda to chocolate to matcha? This small basement ice cream store has gained a cult following with its towering selection of 8 scoops—all for the rock-bottom price of 480 yen.
Although this may not be the fanciest of stuff, you definitely get your money's worth when it comes to both variety and quantity, with whole families seen sharing a cone. With many familiar flavors as well as some more unusual ones (think grape, yuzu, and Ramune, which is like lemonade) it's a pretty fun journey up or down the tower, whichever route you think is best to tackle such a beast. The flavors are on a rotation so you can see what is available on the day. Beware though, they make it clear that they are not responsible for replacing your cone if you drop it, so get your balancing skills on point before you head over!
Bondolfi Boncaffe: Croissant Cones
If anywhere is going to have ice cream served on a freshly baked croissant, it's Daikanyama. It's one of Tokyo's trendiest areas with artisan sandwich shops and 3rd-wave coffee joints everywhere, but there's still room for a little fun. The joy of a freshly baked croissant is incomparable, and seemingly there is now something better to put on it than butter—and it's ice cream. With delicious seasonal flavors as well as old favorites, Bondolfi Boncaffe serves these sweet soft-serve creations for around 600 yen.
Popular flavors include sakura topped with mochi and a brunch-perfect espresso option.  Inside the croissant is custard creme, so your ice cream doesn't soak in, and you are basically getting three desserts in one! Winning the prize for most Instagrammable of the ice creams in today's post, this is definitely a creative take on a cone, but one I am fully on board with.
Dolci Cafe Silkream: Ice Cream That's Easy on the Eye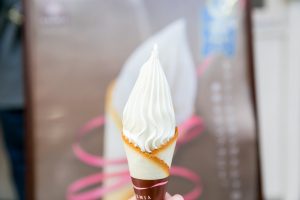 If you're after more stylized ice cream, with some definite beauty—this is the option for you. This is by no means style over content though, made with creamy Hokkaido milk soft serve, the ice cream is the stuff of dreams. Paired with the deliciously crispy waffle cone, it is as good on the tongue as it is on the eye (and that doesn't happen often). This is a luxury treat and a great way to try some of Hokkaido's best produce.
Ice Cream City: The Good, the Bad, and the Ugly
Inside the confusing world of Namja Town, you can visit Ice Cream City with flavors from across Japan. They specialize in local flavors, some good some weird, and some definitely bad—but all for you to decide. Some of the delicious soundings include Aomori Green Apple Sherbet (note, sherbet here means sorbet), Japanese Plum Sherbet, and Royal Milk Tea. Some of the intriguing include Tulip, Salt of Okhotsk, and Avocado Milk gelato.
The downright awful list, however, is where you may find yourself, deep in regret but with many a story to tell. Take your pick from Shark Fin Noodle Ice Cream (for the morally bankrupt), Beef Tongue, Oyster Gelato, and Indian Curry, or maybe try Eel or Coal. Whichever you go for, you cannot win, but you also cannot lose.
You can choose from 3 set plates of 6 options for 600 yen or you can make your own chaos with free choice.
Gomaya Kuki: Sesame for Days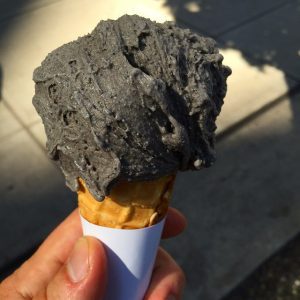 Famed for serving the world's richest sesame ice cream, Gomaya Kuki is a relatively new ice cream shop on the block, but has the edge to stick around. Focusing on sesame flavors including black and white, they use sesame from the Kiku Sangyo Sesame house in Mie prefecture.
You can try different levels of richness for both black and white sesame and also interesting options like sesame salt. Sesame is one of the less-famed flavors here in Japan compared to matcha, but is really unusual and delicious, especially with such high quality.
Nanaya x Suzukien: The World's Richest Matcha
In Asakusa, prepare for a matcha (green tea) overload, if such a thing could ever exist. Shizuoka's top green tea ice cream creators Nanaya have teamed up with the Asakusa Matcha Tea Shop Suzukien to provide all the cold frozen matcha joy(cover image) you could ever need. With seven levels of intensity, you can work your way up to the main event which is thought to be the richest matcha ice cream in existence.
The shop suggestion is to try one of the higher numbers with a lower one, so you can compare the flavors like a wine connoisseur. The richest is also the most bitter, so keep that in mind as it can be pretty intense. Level 7 is a little more expensive than levels 1-6 and you can choose between a cone and a small cup designed to look like a traditional black green tea bowl.
They have seasonal flavors including a current option of lemon matcha. Since a lot of people love matcha, and even more love ice cream, the queues here can be long, especially since it is close to Sensoji Temple, so it's not exactly a quiet place to start with. Get in line though, as the treat at the end will definitely be worth it!
Japanese Ice Ouca: Seasonal Treats
Using specially selected ingredients from across Japan, Japanese Ice Ouca creates delicious ice cream in a stylish cafe, perfect for a quiet Sunday catch-up. Specializing in homemade and seasonal flavors, you can enjoy 3-4 flavors in small or large sizes, so you don't have to make any tough choices. Some of the top creations include brown sugar, sweet potato, and fried dough as well as pumpkin, tomato, and a refreshing kiwi.
Since the flavors change throughout the year though, there's always something new to try. Regular cones are also an option if you have a sure-fire favorite and you can take a seat inside or wander off (but maybe away from the busy nearby crossing). The shop is right by JR Ebisu Station, so you won't have to look far!
Talking about it doesn't do these icecreams any justice, you must try it! 🙂
[mkdf_button size="" type="" text="Take Me to Japan" custom_class="" icon_pack="font_awesome" fa_icon="" link="https://www.magnificentjapan.com/contact-us/" target="_self" color="" hover_color="" background_color="" hover_background_color="" border_color="" hover_border_color="" font_size="" font_weight="" margin=""]