In the heart of the beautiful Hokuriku region, on the coast of the Japan Sea, there is Kanazawa. It is one of Japan's loveliest and best-preserved historical cities.
Often compared to Kyoto (though significantly smaller), Kanazawa is renowned for its impeccable geisha and samurai districts. It is known for the iconic Kenrokuen stroll garden and its wonderful cuisine – including some of Japan's highest-quality seafood.
During the Edo Period (1603-1868), Kanazawa was one of Japan's most powerful cities, as home to the Maeda Clan. Thankfully, the city was spared from the air raids during World War II which left much of the old city intact.
While often missed by first-time visitors to Japan, Kanazawa is an extremely worthwhile destination for travelers to Japan interested in history, gardens, food, and art.
What to see in Kanazawa
Kanazawa's most famous draw (for both foreign and domestic travelers) is Kenrokuen Garden, one of Japan's Three Great Gardens. Along with Korakuen in Okayama and Kairakuen in Mito. The garden is beautiful year-round, and especially magical — though crowded — in spring (for cherry blossoms) and fall (for autumn leaves).
Adjacent to Kenrokuen is Kanazawa Castle. The exterior and the grounds, filled with large cherry trees are impressive despite the reconstruction.
A very short walk from Kenrokuen is the 21st Century Museum of Contemporary Art, featuring architecture, sculptures, and exhibits that present a powerful contrast to the historical gems around it.
Thanks to its popularity, Kenrokuen is usually full of visitors, so for a moment of peace stop in at the D.T. Suzuki Museum of Buddhist philosophy, dedicated to the famous Zen philosopher, where you can enjoy a lovely walk and a small, relaxing garden.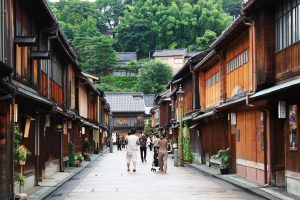 Higashi Chaya: Kanazawa's teahouse & geisha district
The beautifully-preserved Higashi Chaya District (higashi chaya-gai) is the second among Kanazawa's most well-known areas. It is also the city's most famous traditional teahouse and geisha district.
A chaya is a teahouse. This stunningly well-preserved collection of streets is a valuable cultural and historical asset. While not as boisterous as it must have been in its heyday, a stroll in this photogenic part of town conjures Japan's past a few places can.
The neighboring Kazue-machi geisha district is also worthy of exploration, and in evenings both areas are exceedingly charming under the light of old-fashioned lanterns.
Another of the city's well-preserved historical areas is the Nagamachi Bukeyashiki District, which was once home to middle- and upper-class samurai and retains a wonderful atmosphere with its mud walls and long, narrow alleys.
OTHER PLACES TO VISIT IN KANAZAWA
Kanazawa Noh Museum
Gyokusentei Teahouse
Terashima Kurando House
Myoryu-ji (the Ninja Temple) (requires advance reservations; no English-language guides permitted; tours conducted strictly in Japanese with English-language pamphlet provided)
It is possible to "do" Kanazawa in one long and ambitious day. But it is ideal to spend two or more days taking it all in.
The city is compact and easily explored by foot and taxi, and there is also a convenient sightseeing loop bus.
Food in Kanazawa
One of the pleasures of spending time in Kanazawa is the local cuisine.
Blessed with top-quality seafood from the Japan Sea, along with wonderful produce and rice, Kanazawa has long attracted culinary travelers from throughout Japan – and now around the world.
Most of the best sushi shops are small and require an advance reservation, but you will find delicious seafood at other establishments ranging from izakayas to kaiseki and kappo counters.
In the morning, make sure to visit the bustling Omicho Market. Here you will see just how bountiful the region is, with colorful displays of seafood, vegetables, tsukemono (pickles), and more. Several of the seafood stalls double as humble restaurants where you can have a sushi or sashimi breakfast.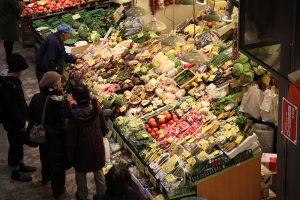 Kanazawa's Omicho Market
Day trips from Kanazawa
As if Kanazawa itself didn't offer enough, the surrounding areas are also full of worthwhile day (and overnight) trips.
Food lovers will want to consider the rugged Noto Hanto (Noto Peninsula)
The historic town of Takayama is an easy day trip, with a stop in Shirakawago (or Gokayama) en route.
Additionally, a wonderful complement to a stay in Kanazawa is a stay at a ryokan with onsen just outside of Kanazawa.
Contact us and we will tailor a perfect Japan itinirary for you.
[mkdf_button size="" type="" text="Take Me to Japan" custom_class="" icon_pack="font_awesome" fa_icon="" link="https://www.magnificentjapan.com/contact-us/" target="_self" color="" hover_color="" background_color="" hover_background_color="" border_color="" hover_border_color="" font_size="" font_weight="" margin=""]