Izakaya is often compared with an Irish pub and American tavern. They are one of the most common restaurant types in Japan. It's a place where you can hang with your friends or your coworkers after work. Have something to eat, drink beer and relax and have fun. It is popular among the Japanese tourists as well so it's easily found near the train stations and entertainment districts. As it is quite loud and lively, it might not be the best place for romantic dates.
Dining Style
There are many types of Izakayas, in some, you can sit on tatami mats and dine from low tables, or sit on the chairs and dine from a table.
You will probably get a wet towel called oshibori to clean your hands. The towels are cold in the summer and warm in the winter. The local custom is to serve an appetizer called otoshi and it is charged onto the bill of an entry fee.
Since it is popular among the foreigners, picture menus are more and more popular. So that you know what you can order even if you don't understand Japanese. Unlike other Japanese styles of eating, food items are usually shared by everyone at the table. There are a lot of all you can eat and all you can drink Izakayas. There, for a set price per person, you can continue ordering as much food and/or drinks as you wish, usually with a time limit of two or three hours.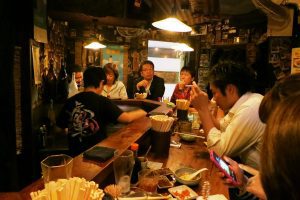 Types of Food and Drinks in Izakaya
There is a wide variety of izakaya offering all sorts of dishes. It's hard to classify the food other than "generally goes well with alcohol". In fact, the menu can be so diverse that it can be a chance to try some dishes you haven't tried before. Usually, you can find a lot of home-style Japanese cuisine and a variety of alcoholic drinks from sake to beers and cocktails. In addition to Japanese food, some places also have pizza, gratin dishes, and another Western fare. Others have Chinese food staples like spicy tofu and spring rolls.
Some of the drinks on offer at an izakaya include beer, chu-hai, whiskey highballs, Japanese sake and shochu; pubs, snack bars and beer halls tend to stock more Western liquor like wines and spirits.
Izakaya is a place with casual atmosphere and reasonable prices. It is a great place to hang out with friends and it is an experience you should not miss in Japan!
[mkdf_button size="" type="" text="Take me to Japan" custom_class="" icon_pack="font_awesome" fa_icon="" link="https://www.magnificentjapan.com/contact-us/" target="_self" color="" hover_color="" background_color="" hover_background_color="" border_color="" hover_border_color="" font_size="" font_weight="" margin=""]